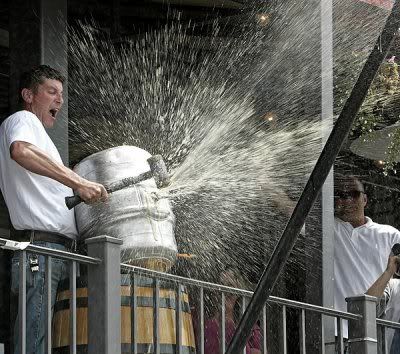 (Photo by Jack Orton and the Milwaukee Journal Sentinel.)
The beer spewed into the Milwaukee River yesterday afternoon at the Milwaukee Ale House for The Spirit of '07 Milwaukee Beer Party Protest and Demonstration. Craft brewers and beer drinkers alike rallied against the Brewpub Tourism Development Act which is now
Senate Bill 224
.
The Milwaukee Journal Sentinel published an article yesterday called
"Producers bitter on liquor bills"
which looks at the objections against SB224 as well as a similar bill which affects wineries. Of note:
Great Dane President Eliot Butler said there shouldn't be any limit. But the 10,000-barrel limit was "the best deal we could cut," he said.

"Anything else is politically untenable because of the power of the wholesalers association," Butler said.
SB224 will receive a
public hearing
today:
Senate
PUBLIC HEARING
Committee on Transportation, Tourism and Insurance
Wednesday, July 11, 2007
1:00 PM
411 South
State Capitol
I was able to take this afternoon off from work to attend.