Ale Asylum will soon be moving into this: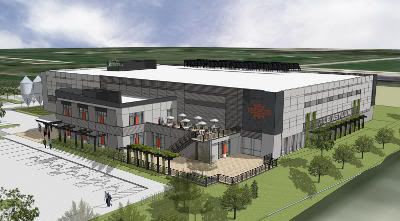 As Mike Ivey of The Capital Times
reported
, AA is going to building a shiny new brewery over by the airport.
The makers of Hopalicious and other styles of full-flavored ales and lagers are seeking city approval for a 46,000-square-foot building at 2102 Pankratz St., just west of the airport off International Lane. Plans include a 36,000-square-foot warehouse along with a restaurant and rooftop patio.

The brewery currently has about 20 employees but expects to grow to 40 or 50 employees over the next two years. Plans include 208 surface parking spaces. Solar hot water panels would be incorporated on the roof.
"The makers of Hopalicious and other styles of full-flavored ales and lagers" - sounds like a press release.
I heard about this 2 or 3 weeks ago from an AA employee but wasn't sure when it was to be announced. Good on AA. It's nice to see them A) stay in Madison and B) stay on the north side.
So is it going to be a real full-service restaurant? When I first read that there are going to be 208 parking spaces I thought that they are really going out of their way to accommodate drunk drivers. It makes sense, however, if they're going to expand the food side of things. I guess. How many restaurants have that many spaces? At least the new site is a hop, skip, and a jump away from Packers Avenue and buses.
Joe - what's the skinny?
In other local beer business news, Capital has
hired a new general manager
, Tom Stitgen.
Jeff Glazer over at Madison Beer Review
poured on the snark
. First he notes that Carl Nolen, Capital's former President, is still figuring his plans (for buying out the brewery?) and then Capital hires an accountant.
Look, I don't run Capital. They didn't ask my opinion, but like most of you, I have an asshole, so I'm going to use it: Capital's problem isn't an accounting one. The problem at Capital Brewery is not that they aren't selling enough t-shirts and are losing money on the Gift ("Geschenk", thank you very much) Haus.
I found his post confusing because I didn't get the idea that Stitgen was replacing Nolen from the piece. Nolen was president while Stitgen is GM. Maybe Capital eliminated the president position and consolidated various duties in the GM position, I don't know.
So what does Glazer think Capital's problem is? Based on some of his previous posts, one of his biggest gripes about Wisconsin craft brewers is that they don't collaborate. Well, Kirby has collaborated with Rob LoBreglio of The Great Dane. That's how we got Supper Club and a barley wine the name of which I don't know. This being the case, I'd guess that Glazer's problem is that Capital is not moving into other states aggressively enough. The article says, "Capital says it has come up with a plan to create three separate profit centers: brewing; the Bier Garten, it's seasonal outdoor entertainment venue; and the Gift Haus, which sells beer, clothing and accessories." This sounds like internal restructuring and doesn't preclude trying to distribute in California.
Lastly I see that House of Brews is slowly finding its way to taps here in Madison. A list is
here
. In addition to his rye Kölsch, page now has Cellar Dark ale and Full House which is a pale ale, I do believe.