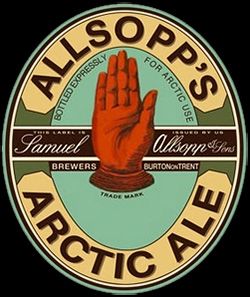 Martyn Cornell, author of such volumes as
Amber, Gold & Black: The History of Britain's Great Beers
and
Beer: The Story of the Pint: The History of Britain's Most Popular Drink
and all-around beer geek recently blogged about
sampling
a bottle of Allsopp's Arctic Ale.
One indisputably legendary beer is Allsopp's Arctic Ale, the powerful, rich Burton Ale, original gravity 1130, north of 11 per cent alcohol, brewed in Victorian times specifically for expeditions to the Arctic Circle by British explorers. There are a very few bottles left of the Arctic Ale brewed for the expedition under Sir George Nares which set out in 1875 to reach the North Pole. And this week I drank some.
It makes the bottles of New Glarus Tailwagger barleywine from 2005 in my basement just a bunch of pups.
But how hoopy is that? Other vintage brews were sampled as well such as a 1902 Bass King's Ale. Ron Pattinson was
also there
. Cornell has a photo of the gang at the sampling and I must admit that Pattinson doesn't look like I expected him to yet he looks perfectly suited to write the way he writes. His is the ideal visage for taking on the Homebrew Twats and dismissing the Hop Wars in American craft brewing. Curmudgeonly yet curiously avuncular.
Labels: Beer