Amtrak has had a
banner year
.
Amtrak recently announced that the railroad broke their all-time annual ridership record for the ninth time in 10 years in fiscal year 2012, carrying 31.2 million passengers, surpassing the previous record, set last year, by one million trips. More people rode Amtrak trains in July 2012 than during any other month in the company's history.

Aside from increasing ridership, the average on-time performance of Amtrak trains also reached a new, all-time high.

Furthermore, Amtrak has made all of this progress while requesting less operating support from Congress each year. Amtrak is requesting 44% less federal funding for rail operations than it did in 2004 and now says that it covers 85% of its costs using ticket revenue.

Both routes which serve Wisconsin, Hiawatha and Empire Builder, saw
ridership gains
. Thanks to Governor Walker Madison has no prospects for rail service. Instead I 90/39 and I 94 will be widened to the tune of around $1 billion and $1.9 billion, respectively. We have millions to sink into new roads and the added maintenance costs but not trains. Plus the CEO of Talgo, the company hired to build and maintain the rail stock to have been used for the new service to Madison,
said
, "They should be careful of doing business here because Gov Walker does not keep his word. It's like we're talking about a Third World country, where people don't have respect for their contracts." That's not a reputation that Wisconsin wants to have.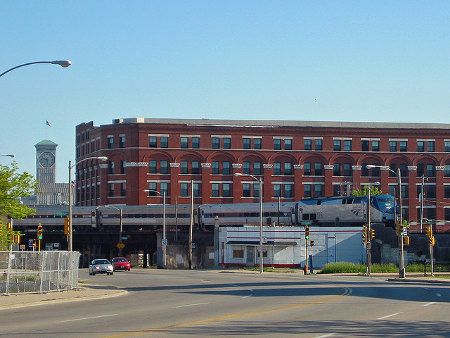 (Photo by MSPdude.)