That BBQ Joint opened on Willy Street last week so I stopped in after work to sample the smoky comestibles. The place was empty but the garbage cans were full. The decor was rather utilitarian. There were a few small tables with stools against the windows but that's about it. Take away is the order of the day.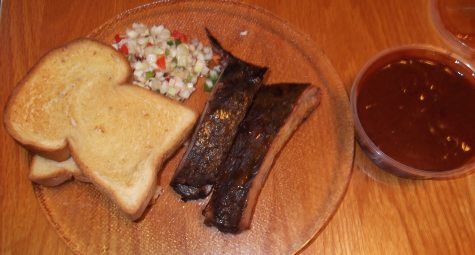 I purchased a rack of ribs, which came with garlic bread, and some vinegar coleslaw. In addition, I brought home some of their regular BBQ sauce. The ribs were tender but not falling off the bone. When you rip off the meat, you can see the smoke ring. Curiously enough, the rib tips were still attached which methinks disqualifies them as St. Louis-style. They had a wonderful smoky flavor. The sauce, which came on the side, was tomato-based and had a nice sweet-tangy balance.
The garlic bread was fine while the coleslaw was a bit too sweet for me. I prefer slaw in a vinegar-based dressing to emphasize the tartness of the vinegar. Sugar shouldn't neutralize the vinegar, just take the edge off.
As I was getting the bill settled, a gentleman came in and took his place in line behind me. We chatted briefly and he noted that this was his second go-round of the day. Earlier he had tried out the pork shoulder and was so smitten that he had returned to try the ribs.
So far, so good for That BBQ Joint. Hopefully the neighborhood embraces them, although I was not present during any breast-feeding so we shall see. Personally, I still give Papa Bear's sauce an edge, but TBBQJ has the advantage of being closer to home. As a bonus, TBBQJ doesn't have a
stupid, sexist drink menu
like it's nearest competitor.