A rare "Birch cent" recently
sold at an auction
for $1.2 million.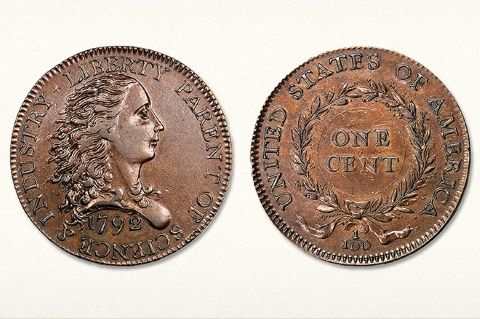 The coin, known as the "Birch Cent," was made in 1792, months after the one-cent denomination was first authorized by Congress, according to the auction house Stack's Bowers Galleries.

It was made in a trial run for the penny, and depicts Lady Liberty. Thomas Jefferson and George Washington discussed the design in letters dated August 1792, before it was presented to Congress as an option for the new coin.
The article makes it sound like this was merely a prototype coin and not legal tender. Having now looked at Wikipedia it would seem that this coin lost out to the
Chain cent
as the first penny used as legal tender in the United States. The profile of Lady Liberty was retained for the front of the Chain cent.
While the Chain cent merely says "Liberty" on the front, the Birch cent says "Liberty Parent of Science & Industry". For all the bluster of charlatans such as David Barton about the United States supposedly being a Christian nation, "In God We Trust" was not placed on American currency
until 1864
. And here we can see the privileging of science over religion in the very early days of our republic.