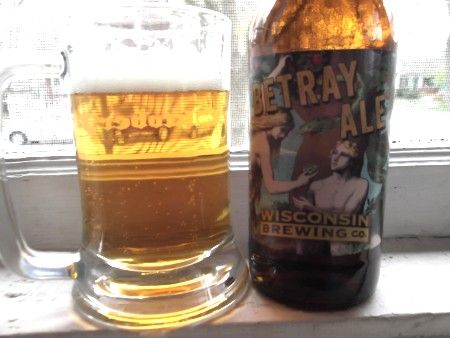 I recall the spring of 1991 when I walked into my dorm room and found my roommate proudly brandishing a bottle of Capital Maibock or as he referred to it, Mindblock. If memory serves, this incident was my introduction to seasonal beer drinking and also when I became enchanted by Kirby Nelson's bock-brewing diablerie. You had Maibock in the spring as the air began to become more temperate and then, as the leaves withered, there was Autumnal Fire followed by dark and blonde doppelbocks to stave off Jack Frost.
As the craft beer scene matured and an unremitting hop assault on the tongues of drinkers began, Nelson largely stayed out of the fray preferring to remain at the helm of a "Wisconsin lager" brewhouse. In 2012 Nelson left Capital to join the new Wisconsin Brewing Company and promptly shocked longtime Capital fans by brewing two IPAs out of the gates. But there was a collective sigh of relief from these folks when WBC released a maibock called Big Sweet Life last spring.
It wasn't long before a draught-only India Pale Pale Bock, a helles bock, hit taps around town. And this year it has been christened Betray Ale and bottled to replace Big Sweet Life.
The maibock ("May bock") hails from Munich in southern Germany and is the lighter-colored member of the bock family having a golden hue that can wander into amber territory. Like other bocks, this style has a rich malt flavor but is often more hoppy than its cousins. It is brewed in the winter and brought out to celebrate its departure in the spring.
Betray Ale
is billed as being an "India Pale Pale Bock" so you know that Nelson has taken the greater hop flavor of the style to heart. Nothing seems out of place, however, when you poor the beer into a glass. It is clear with a nice deep yellow color. Bubbles galore run up from the bottom of the glass to a nice white head that stuck around for a while.
The first indication that this isn't the bock of springs past comes in the nose. I was taken by surprise when I smelled grapefruit. There was a little bit of a bread-like scent in the background but the citrus/grapefruit fragrance dominated. After taking my first whiff I was rather ambivalent. On the one hand, I was not amused at smelling 20+ years of drinking Nelson's maibocks go down the drain because many people have lost sight of the fact that beer is a malt beverage, not merely a vehicle for hops. On the other hand, it simply had an alluring aroma.
I was unsurprised to find that grapefruit was not to be found solely in the nose. It was the first thing I tasted. While very prominent on the tongue, this hop flavor was not bitter. In fact, I think that the malt comingled with it to make a very sweet, fruity flavor akin to a pink grapefruit juice cocktail. While I inquired of WBC as to what kind of hops are in Betray Ale, I have not yet received a response. WBC advertises the beer as being dry hopped so I presume the grapefruit aroma and flavor come from that addition of hops. Simcoe?
There was also just a touch of spicy hop flavor underneath all the citrus. Once the hoppiness recedes, you get a brief flash of malt sweetness that was a mix of stone fruit and corn. (Not creamed corn, by the way.) Betray Ale is 6.5% A.B.V. so, while it is a good strength for a spring night, it's not super-potent and you cannot taste the alcohol. Considering all of the sweetness, Betray Ale has a medium body that befits a maibock. I found the finish to be smooth yet slightly dry with lingering citrus hop flavor.
To be blunt, I drank about half the bottle and gave the rest to my significant other. If she hadn't been around, it would have been poured down the drain. Kirby Nelson can brew a damn fine maibock so why hide that behind all the lupuline macquillage? If Betray Ale had about a quarter of the citrus flavor, then I suspect I'd like it more. A quarter of the citrus plus a bit more Noble hop spiciness. Use the grapefruit flavor as an accent and not the main attraction. As it is, the brew just tastes too syrupy, too much like grapefruit juice cut with sugar to dull the tartness. While I hate to see tradition suddenly disappear, I am not opposed to change and the creation of new traditions. But Betray Ale is Old World tradition ruined by New World novelty.
On the plus side, my glass was left with some really nice Schaumhaftvermoegen.
Junk food pairing: Drink Betray Ale along with cheese curds, preferably those made with a beer batter that tastes like beer instead of grapefruit. The salt and fat should help counter the cloying fruit punchiness of the beer.
Labels: Beer, Bock, Wisconsin Brewing Company