I was in Chicago over the weekend and of course I stopped at a grocery store. My primary goal was to get some quinces at the Produce Center since my last attempt to make a marmalade of quince ended up as a brick. The quinces were cooked just too long, much to my shame. Unfortunately there were no golden apples to be had. And so I purchased...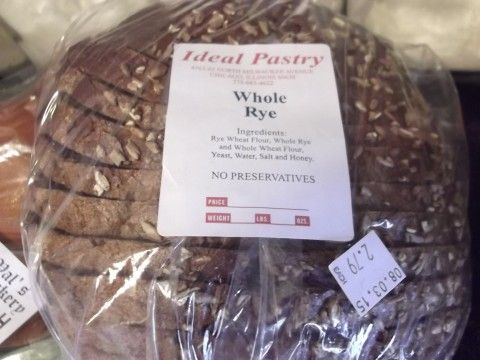 Whole rye bread! I'm not sure that any breadery in the Madison area makes this. Perhaps a store imports it. The best local analog I can think of is the
Bavarian rye
from The Bread Barn. That is a fine brot but this loaf has more rye. Also no caraway here. Ingredients are rye flour, whole rye flour, whole wheat flour, yeast, water, salt, and honey. The crust is chewy while the non-crust interior is soft and fluffy. I had a sandwich made with this stuff for lunch today and it was tastilicious.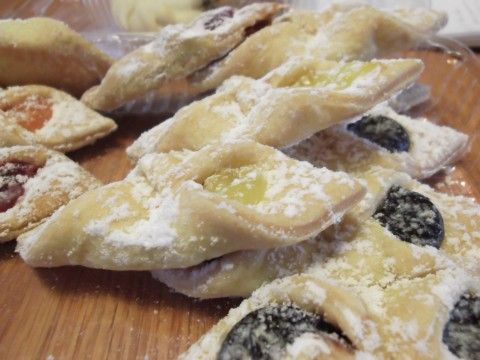 And I just had to buy some kolaczki - raspberry and apricot. Thankfully storm clouds moved in otherwise we might have ended up at
Sweet World Pastry
and become the proud owners of a lot of baumkuchen.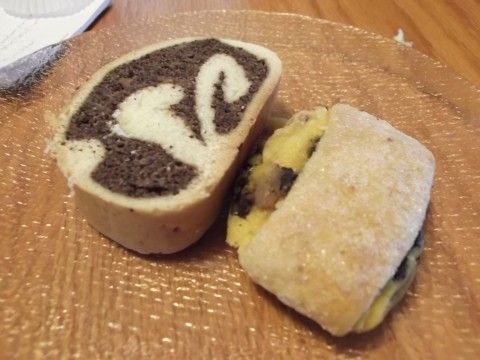 Makowiec (poppy seed roll) is obligatory. Luckily I am not required to take a drug test. That chocolate cheese rugela on the right came from
New York Bagel and Bialy
. Open 24/7 to serve all of your bagel and bialy needs. Also got raspberry cheese rugelach.
Yes, I also bought bagels - egg, onion, and mish mosh, a.k.a. - everything.
Just a store front or two down from the bagel joint was what I believe is a fairly new bakery -
Libanais Sweets
. They had multiple sizes of baklava sampler packs.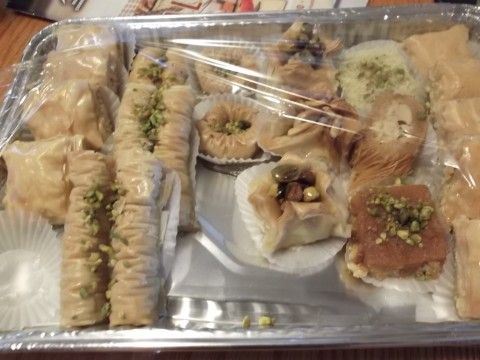 Tasty. Very tasty indeed. One species here is made with rose hips or rose water or rose something. Mmmm...I had no idea that there were so many iterations of baklava but the bakers of the Ottoman Empire had centuries to tinker and perfect recipes so it's not surprising.
They also had a large assortment of cookies.
Cookies dipped in chocolate then dipped in diced pistachio. Fantastic! And not overly sweet which means you can eat more in a session. They're session cookies.
It's ratatouille and session sweets all week for me.
Labels: Baklava, Chicago, Food, Polish food, Rye