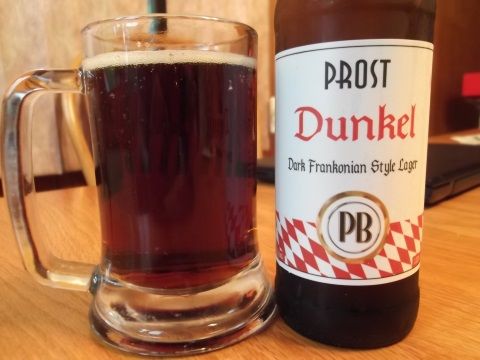 Denver's
Prost Brewing
is an anomaly in the microbrewing world. There's no IPx in their line-up nor any bier that is understood today to be "hop forward", as far as I can tell, and their packaging is certainly on the utilitarian side. Scantily clad women do not adorn blonde lagers while their doppelbock does not intimate that consuming it will put the drinker
in extremis
. Then again, their taproom may have a Citra-laced IPL on tap between Dirndl Ripper Helles and a barrel aged doppelbock called Me 262.
But I rather doubt it.
Seeing Prost on store shelves makes me kind of sad. Sad in that I feel my state pride deflated a little bit. Wisconsin was once the epicenter of American brewing led by companies started by German immigrants. Somewhere around 30% of the people in the state claim some German ancestry even today. Bratwurst is ubiquitous and towns and cities around the state have Oktoberfests in the autumn. Milwaukee was once known as "the German Athens" and today its major league baseball team is called the Brewers and games features a sausage race. It does not seem wrong for an outside observer to assume that somewhere in Wisconsin there is an all-lager or all-German style microbrewery.
Well, if there is one, I do not know about it. Sprecher and Capital, the twin pillars of our state's microbrewing industry that began by brewing German styles, abandoned that kind of obeisance long ago. Don't get me wrong, I am not arguing that Wisconsin breweries should slavishly adhere to tradition. But where they could have built on Wisconsin's German brewing traditions and melded them with the new, they instead moved away from it. The only breweries on our shelves now that I am aware of that adhere completely to lagers/German bier styles are Chicago's
Metropolitan
and Prost.
End of jeremiad.
Prost is one of those few breweries that cleaves to German tradition, if their website is any indication. I've already tried
three of their biers
and they were all quite common German styles brewed sans Citra hops, barrel aging, or souring. Today I have their
dunkel
which the brewery advertises as being in the "Frankonian Style". Franconia is a region in southeastern Germany. I don't believe that it's a state or legal municipal entity but rather more like the Midwest here in the States. Prost contrasts Franconian dunkels to their Bavarians cousins by saying that they are "slightly stronger and drier". And is their wont, the bier has a typically austere name – "Dunkel".
Dunkel pours a lovely copper color and was perfectly clear. My glass had a loose, light tan head on the small side that lasted only a short time. There was a smattering of bubbles inside the brew moving on up.
The aroma was full of roasted grain scents, but not of the highly roasted chocolate malts of the last
dark lager
I tried. Behind them was a hint of stone fruit sweetness.
There was, however, a bit of chocolate to be had in the flavor. Not near as much as was in Baba from a few days ago or a porter/stout, but it was there. Those roasted grains were here and I shouldn't be surprised as Prost practices decoction mashing which some swear gives bier that fine Maillard reaction toasty maltiness which we have here. A slightly doughy sweetness rounds out the malty trifecta. The carbonation was great adding a little fizzy bite but not enough to detract from the grainy goodness. Lastly, there was some spicy hop lingering in the background.
For the finish all those malts ceded my tongue rather hastily leaving the Hallertau hops and their herbal/spicy taste free rein to help dry out the finish with a healthy dose of bitterness. Sadly and surprisingly, there was no
Schaumhaftvermoegen
. It all slid down my glass to be subsumed by the last remaining liquid.
If it is indeed true that decoction mashing will give you toasty malt flavors that you just can't get any other way, then Dunkel benefits immensely from it. The roasted grain taste, including the chocolate, was fantastisch but I wish it was just a bit richer, a bit fuller. The carbonation was perfect, adding the right amount of dryness and bite. And the hops on the finish were on target with their botanical bitterness. Dunkel is 5.2% A.B.V. which I suppose is just a bit stronger than your average dunkel but it did not taste particularly drier than the Bavarian versions of the style I've had. Surely something to investigate further. In Franconia.
Junk food pairing: Dunkel pairs well with Kettle Brand Maple Bacon potato chips. I mean, German biers just demand to be consumed with pork or pork-flavored foods.
Labels: Beer, Dunkel, Dunkles, Prost Brewing Company