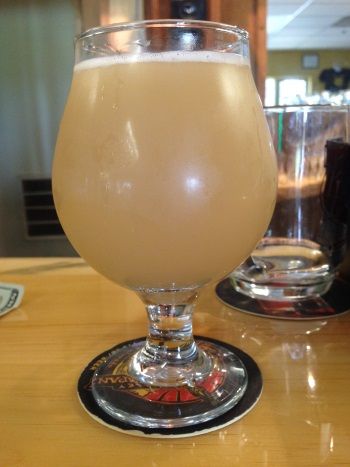 Last month when I stopped in at the
Parched Eagle Brewpub
to try out their
ESB
, proprietor Jim Goronson was putting the finishing touches on a Berliner Weisse. It took me a few weeks but I eventually made a return trek to try out the bier which had been christened Westporter Weisse.
Little did I know that day in June that Goronson was back in his brewhouse wielding Greek yoghurt. I guess this makes Westporter Weisse probiotic or some such thing. Apparently yoghurt is blessed with multiple strains of lactobacillus, the bacteria that gives the Berliner Weisse (and other sour brews), their distinct citrusy tartness. With Athens Gyros next door to his building, Greek yoghurt must have been a no-brainer for Jim.
While I neglected to ask him exactly how he soured his bier, my understanding is that you put a dash of yoghurt into some warm wort which is the lacto equivalent of the back seat of a car - an ideal breeding ground for little critters. After a honeymoon of a few days at the right temperature, you have a colony of lactobacillus ready and waiting for the right kettle souring opportunity.
When I received my pint of Westporter, I was surprised at how turbid it was. The brew looked like one of those New England eyepahs that I hear are taking the world by storm. This is stuff looked like a whiteout in a glass. Well, except it was light yellow. The small white head didn't stick around very long and I was unable to see through the lemon haze to check on effervescence.
Things returned to normality as my nose hovered over the glass taking in wheat and sourness. The sour smell was lacking the usual lemon bit at first but it became more citrusy as the bier warmed. While the mildewy, wet blanket aroma of brettanomyces yeast has a long history with the Berliner Weisse, none was introduced here. And so some strain of lactobacillus was responsible for the faint, yet very pleasant, funky smell here.
While
Destihl's Berliner Weisse
has a lock on the Best Beer for Making Voltaic Piles category, Westporter has a good, firm tartness. Cold, the tartness flies solo but is joined by the expected lemon-citrus taste as the bier warms. The wheat poked through a little bit as did a mineral water flavor but I didn't taste much carbonation.
The tartness slowly faded on the finish and left my mouth with a slight citrus tang and the aforementioned mineral tastes.
Schaumhaftvermoegen
consisted of a few scattered spots of foam.
Key to enjoying a Westerporter Weisse is letting the bier warm up a tad so that the lemon scent and taste from the bacteria comes through to really bring the tartness to life. It falls in the middle of the pack as far as the acidic taste and sourness goes. It won't dissolve metal but it may be something of a challenge for those new to sour brews. (This can be remediated with the strawberry syrup on offer at the bar.) Westporter has a light body perfect for this heatwave – it's only; 3.5% A.B.V. - but I wish it had more carbonation. There's also a mineral aftertaste that, although not strong, challenged my tastebuds to figure out what to make of it. It seemed more out of place than bad tasting.
All in all, not bad. Westporter Weisse was, to the best of my knowledge, the first beer I've had soured using yoghurt and it'll take more tasting to figure out if the process lends anything unique to a brew.
Junk food tasting: Keep the Greek theme going. With a Westporter Weisse in one hand, put a pile of Shearer's Rosemary and Feta Kettle Chips in the other. For dessert, pair Westporter with a Hostess Greek Yogurt Swirl cake.
Labels: Beer, Berliner Weisse, Parched Eagle Brewpub