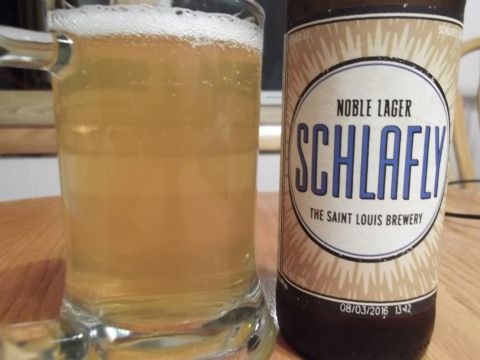 A friend of mine who swears that
Pappy's Smokehouse
in St. Louis has the best ribs and pulled pork in the known universe had been talking about making a trek south to enjoy some of their admittedly very fine ribs and whatever other meat trips his trigger that day. Well, that day happened a few weeks ago.
As I discovered less than a mile from Pappy's lies
The Schlafly Tap Room
. And it was our first stop after we rolled into town.
My experience
with the brewery's beer is not extensive which is probably due to a combination of my parochial tastes and the limited selection of their brews I am presented with at the bottle shops I frequent in Chicagoland. Amongst the brews I sampled was their hefeweizen which was excellent. It featured fine phenolic banana with a touch of estery clove – just the way I like it. A light body and a citrusy edge made it perfect for a nice sunny day.
Upon returning home I was reminded that I had started a review of their
Noble Lager
but had never finished it. And so I thought it was the right time to do so.
Noble Lager is a late summer seasonal and I found some in Chicago last autumn. Schlafly bills it as a "traditional lager" without saying whose traditions in which it was steeped. The ingredients are all European or European varieties but it's not being sold as a Helles. An American lager with European ingredients, perhaps?
The beer was a medium yellow hue and, curiously enough, hazy. Not muddled like the new trend in eyepahs – just a tad cloudy. (May St. Gambrinus save us from totally turbid lagers!) I managed only a small head on my pour which was loose and white and lasted about an average time while inside was a surfeit of bubbles. While clarity would have perhaps made for a prettier beer, it still looked good to me.
My notes indicate that the aroma was "awesome!". This was mainly due to a wonderful bready scent that was accompanied by a tad of malty sweetness. Although moderate, the hops greeted my nose with a fantastic mix of grass and floral scents. I presume the latter came from Lublin hops which are commonly thought to be a Polish variety but in fact are Czech. (They are, however, apparently quite popular in Poland.)
If the label "traditional lager" had me worried that this was going to be what I see called an "American pale lager" – often times a moniker for micros that are macro+ - then my fears were dispelled quickly because Noble Lager tasted like a Zwickel/Kellerbier. The heavenly trifecta of biscuit, bread, and yeast were like manna to my tongue. A bit of honeyed sweetness followed before those Noble hops imparted a nice grassiness. Just enough to add balance along with a firm fizziness.
The finish was a bit surprising. As the malt faded a bold spicy hop taste took over. Think black pepper. This made things fairly dry and bitter and gave a nice crisp snap to the finale. My glass had
Schaumhaftvermoegen
everywhere and thick webs of it too. It was a beauty, eh.
Whatever a "traditional lager" is, count me in because this is a fantastic beer. It was as if a melanoidin bomb went off in the kettle triggering countless Maillard reactions to give Noble Lager its great toasty-bready aroma and flavor. And the yeast was a bonus. I wish some of that floral scent has been in the taste but that's a minor quibble. The Saaz-like finish was a lovely surprise and added a nice contrast to the clean bready flavor. I'd love a return trip to Schlafly to taste this stuff fresh from the teat.
Junk food pairing: Pair Noble Lager with a heaping plate of potato chips topped with melted Provel.
Labels: Beer, Kellerbier, Schlafly Bottleworks, Zwickel