I had a neat conversation yesterday, which was my first day at my new job. I showed up and was told by the receptionist, Phyllis, to have a seat while my new manager was being found. When the phone stopped ringing, Phyllis came out from behind the counter and started chatting with me. She asked if I lived in town and I told her that I did and that I lived on the far east side, just off of Milwaukee Street. Phyllis was somewhere in her 60s and she began talking about how the McDonalds on Milwaukee near Highway 51 used to be the site of her grandparents' home. They owned 20-30 acres extending back to what is now a regional office of American Family Insurance. There were 3 or 4 homes, the
Hiestand School
, and that was about it. Today there are homes everywhere, fast food joints, and a couple strip malls but the school still stands as Toad Hill Children's House. We concluded that Madison has undergone many changes over the years.
Indeed it has. Even in the 16 years that I've lived here, the population of Madison has increased by well over 30,000 people. Condos, apartment complexes, and new homes have sprung up everywhere; American Family Insurance has grown considerably; the UW attracts, perhaps now more than ever, more students from diverse locations; Madison is a leader in the biomedical field; we have a still fairly new and shiny Overture Center for the Arts and the Monona Terrace Convention Center; the Chazen Museum of Art is going to expand with a new wing of 62,000 square feet in a few years; everything is growing. As the population of the city and the metro area grows, businesses become more regional, national, and international, and as Madison becomes an even greater regional attraction, the need for moving people around for work and for play has increased.
Our mayor, Dave Cieslewicz, is tackling the issue by
promoting light rail
for the city while the county generally pushes for a commuter/light rail combination. Commuter rails involved bigger, heavier trains that move people from an urban center to outlying areas while light rail, as the name implies, uses smaller, lighter trains to move people within an urban area. As the debate raged on, it got me thinking about trains. However, instead of contemplating the future of rail in Madison, I began to look to the past, namely, intercity passenger rail.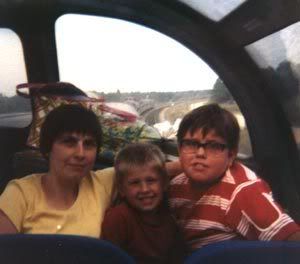 That's me along with my mom and brother on an Amtrak. (I'm the cute blonde.) We're on an
Empire Builder
en route from Chicago to Glacier National Park in Montana. Making that trek today would be slightly more difficult as Madison is not served by Amtrak. Instead, the nearest station is in Columbus, about 28 miles northeast from here. Of course, this wasn't always the case. Madison used to be served by multiple railways carrying passengers around the region. And just as there is talk about light or commuter rail being introduced here, so too is there talk of bringing Amtrak service to Madison.
To Part 2
.