Just down the street from Andy's is The Produce Market.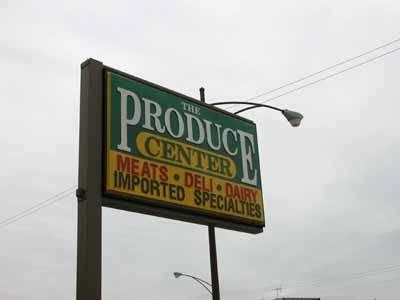 While not strictly a Polish store, it does emphasize Polish foods. Plus they carry more generic/American items and so it resembles a regular grocery store more than Andy's. The deli is smaller and carries more things like plain turkey breast, corned beef, and the like. Plus they also have several varieties of olives and other non-Polish items. Notably, it's the only place I've ever been at where raw olives were sold. Unfortunately there were none to be had the day we were there. I was disappointed as I thought it would be cool to process my own. However, they did have pomegranates and quinces.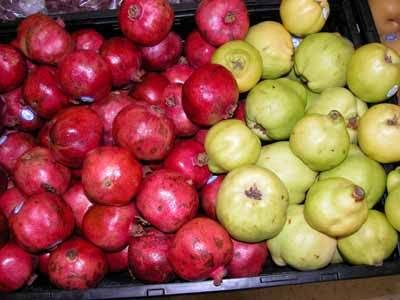 Curiously enough, both were labeled as products of the USA. The pomegranates were in great shape and I may bring some over to The Dulcinea's place later so we can reenact that whole Persephone-Hades thing. Roaming the aisles we came across many items. For instance, here's something you don't see often – beef tongue.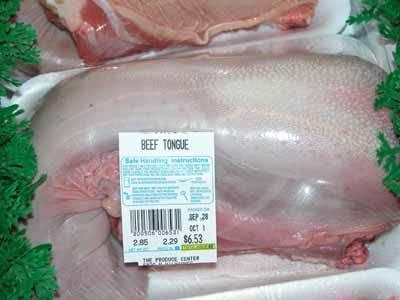 Jason picked up a bottle of Polish ketchup and we headed to the meat case. In addition to
Kabonsy
, Polish stick sausage which we forgot to get at Andy's, Jason got a kishka. You can see them here in this picture. They're the darker ones on the left.
I was going to steal it so Jason would be forced to ask "Who stole the kishka?" but I thought better of coming between a man and his sausage.
Notice the spicy head cheese in the picture above. Looking back, I feel stupid for not having bought some.
They had this cole slaw in a vinegar dressing which looked mighty fine so Jason and I each bought some. Notice also the four different varieties of feta cheese.
Where Andy's carries baked goods from Ideal Pastry, The Produce Center carried them from a variety of places including Gorski's over on Central Avenue. I bought one of their poppy seed rolls. They don't frost them, unlike Ideal, which attracted me. Less sweet, more poppy goodness shines through.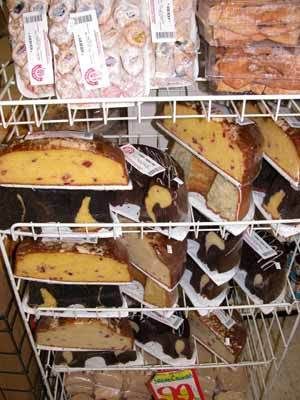 We packed up our stuff and walked a couple storefronts down the street to a bakery.
Honestly, I dunno what the name of the place is. But it's where I got that mega-loaf of
landbrot
back in April. There was a kindly woman behind the counter and a shelf displaying all of their breads. It was a tough choice. I loved the
landbrot
and just had to get some more. This time around I went for half a loaf as a full one is about two feet long and weighs around 6 pounds. This "bread of the land" is real rib-sticker stuff, a dense combination of wheat and rye. A woman who came in after we did commented to me on the bread. I was only able to make out bits and pieces of what she said but, combined with her laugh, I could tell she was commenting on the heartiness of the stuff. In addition, I grabbed a loaf of pumpkin seed bread as well as one of cranberry-walnut. I haven't tried the former yet but I can tell you the latter is fantastic.
Bringing the bread back to the car, we felt a bit peckish. Our next stop would be Devon Avenue and so we'd have a myriad of choices. We needed to fill our gullets again lest we hit the shopping trail with hunger pains. We'd bought enough already after having had breakfast so I can only imagine how much more we would have bought had we continued on empty stomachs.