Our first stop after lunch was the Argo Georgian Bakery, which according to some Internet sites, is the only one of its kind in the country.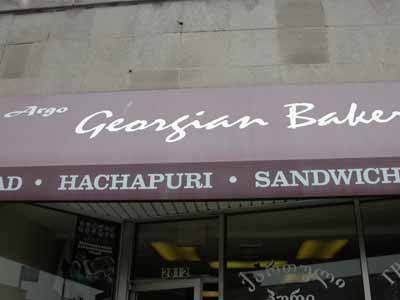 Walking inside, we found that most of the space in this small store was dedicated to making their famous hachapuri, breads, etc.
The display case was really small with a chest freezer next to it. There were a couple tables off to the side. Despite there not being much for us to gawk at, what was there looked incredibly tasty.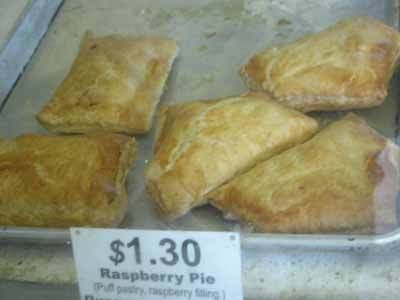 I bought a couple hachpuri, which are these puff pastry turnovers filled with feta cheese, and several pounds of frozen pelmeni. Pelmeni are dumplings and there is a restaurant of the same name on State Street here in Madison. My friend Charles used to date a Russian woman so he is well-versed in pelmeni. He says that the quality there has gone down since it re-opened a few months ago. However, I haven't been there recently to critique his critique.
Next stop was the Three Sisters Delicatessen, a Russian store. When we walked in, the joint was packed with the one narrow aisle almost unnavigable. The display cases were full of smoked fish, jellied meats, etc. The one wall of goods had a little bit of everything. Nothing really peaked Jason's interest though a couple things looked tasty to me. I decided that we'd stop back later. Walking down the street another block, we came to a Jewish deli. The place was empty. There was maybe one other customer there and the display cases were dim. It was only around 2 - where was everyone? We wandered around a bit and Jason picked up a jar of kosher dill pickles. Continuing down Devon, we came to the Tel-Aviv Bakery.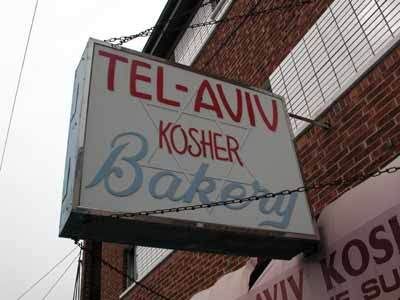 Thankfully we had eaten because, upon entering, I was surrounded by wonderful-looking treats such as this wall of cookies.
>
Jason and I looked around and drooled. As we did so, the place filled up as about 10 people came in. A woman behind the counter kept yelling at me, "Can I help you?!" but I was entranced by this chocolate hoolie in the window. It was the last chocolate one with the remaining being all fruit-filled. After about her 4th attempt at helping me, I finally pointed and said, "Give me this." Jason bought a couple dozen cookies. I paid for everything and was given a couple sampler cookies which, I am happy to report, were fantastic.
At this point, we started making our way back towards the car. A quick stop at a fish market turned up nothing because the tables of ice were bare. The guy behind the counter was an Orthodox Jew and he was counting the till. He said they were closing but asked if there was anything that he could get for us. Looking at the list of fish available on the wall tempted us, but we were more in the mood to browse and look at the product. And so we moved on.
We stopped back at the Three Sisters. The place had emptied out quite a bit. I grabbed a 2-liter of
kvas
, which is a Russian drink made of bread that ferments in water and a tin of lard with bacon bits. Yes, you read that right. Not bacon in lard, but lard with bacon. One of these nights I'll open the tin and see what's in there.
Our last stop was Ambala Sweets.
Ever since my first visit, I've been hooked on Indian sweets. This is surprising since there is virtually no chocolate involved. Lots of pistachios and cardamon with most items being made with gram flour instead of wheat. (Gram flour is made from chickpeas.) Here's some pictures of a few sweets. I don't know what these things are in the first picture, but they're warm, glazed goodness is enticing.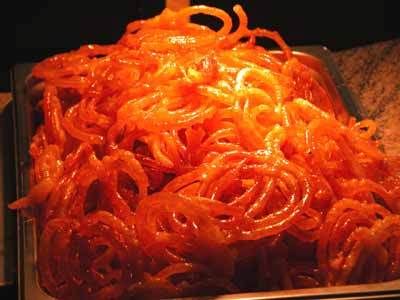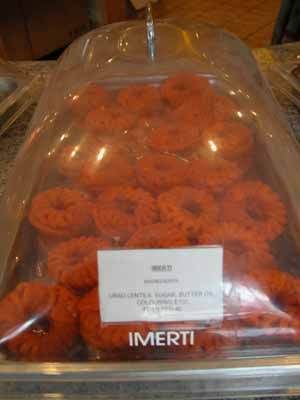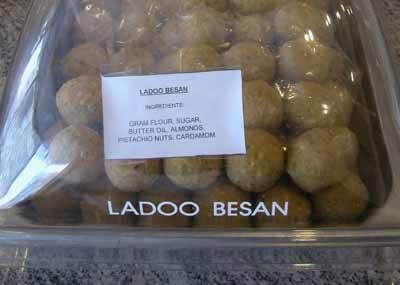 Ooh! Here's one of my faves. This is barfi pista. Barfi is a mix of condensed milk and gram flour that is flavored with various spices, nuts, and the like. This is pistachio barfi and it probably my favorite variety.
My last couple trips to Ambala have been kind of disappointing in that the owner hasn't been around when I've stopped in. The owner is really friendly and knows me as "the guy from Wisconsin". Recently there's been a woman in her early 20s behind the counter and she has a demeanor indicating that she doesn't want to be there. She was on her cell phone (with an ear piece) the whole time she helped us. While not rude or unhelpful, she never smiled and made us feel like we were distracting her from having fun by making her do her job. Hopefully the owner will be around the next time I make a stop.
With our hands full, we made our way to the car. Jason was severely tempted by a butcher shop whose sign advertised tender, young lamb but we didn't have much room and so he passed. Our next desination was: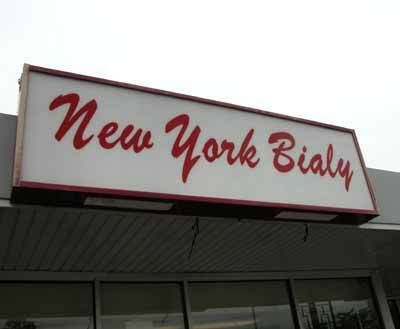 Since my last trek there, they've torn up Touhy Avenue making our drive there a pain in the arse. But make it we did. I grabbed a couple apricot hoolies, the name of which I cannot recall and some onion bialys. Bialies are named after the Polish city of Bia?ystok and were brought to America by Eastern European Jews. They are similar to bagels but have two crucial differences: they are not boiled and have a depression in the middle instead of a hole. I don't recall ever having seen a bialy here in Madison other than those I bring home from Chicago. I don't think that
Ella's Deli
has them nor do any of the bagel joints which, to the best of my knowledge, are all chains.
Our last stop for the day would be Serrelli's Grocery. We made a straight shot down Narragansett to North Avenue. I went to Luther Burbank Elementary School, which is in that neck of the woods, and it was interesting to be back in that area. The Brickyard Mall is completely different from what I remember. It seems like they tore the whole thing down and started from scratch. Ah,
here's
the story.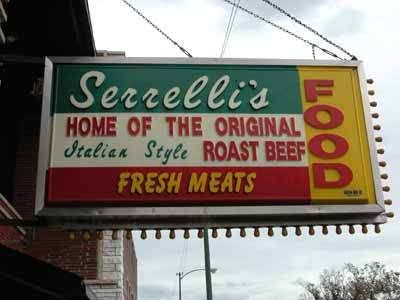 Serrelli's
has been around since the 1930s and I think the store is the same size today as it was when opened. While small and cramped, there was a lot of good stuff to be had. Jason grabbed some frozen ravioli and lasagne sheets while I went straight to the Italian beef. A 3# tub for my friend Scott and 5# for me. They had an aisle dedicated to food service sized cans and jars and that #10 can of hot giardinara tempted me greatly. The only disappointment was the deli. While there were definitely some great stuff in there, I was hoping that there would have been a larger variety. It had all the basics but I was hoping to see 40 varieties of capicola, prosciutto, and the like. I'll keep looking but, at the moment,
Fraboni's
here in Madison isn't going to lose any business from me.
After repacking to optimize space, we had all 4 coolers, the remaining space in the trunk, and most of the back seat filled. We made our way back to the Kennedy. We would make a brief stop at my aunt's in Arlington Heights to pick up a scanner and then we'd finally head home to unpack.