Last weekend The Dulcinea and I went to Arbat Russian Restaurant out in Fitchburg. It was my second time there and the first for The D. I am a quarter
Ruthenian
, which is an ethnic sub-group of Ukrainian, so I was quite pleased when Arbat opened. It had been about a decade since The Russia House had closed and, while Madison has tons of restaurants, Slavic cuisine is woefully underrepresented. (In this Slav's opinion, anyway.) My first go-round at Arbat was a pre-cinema expedition shortly after it opened and one of our party is a pelmeni addict. Seriously, the stuff is like crack for him. My meal then consisted of the cabbage salad, czarski (pork loin stuffed with cheese), and a Baltika beer. Charles satisfied his pelmeni addiction while James had the chebureki, a fried meat pie. While the cabbage salad was quite salty, it was still tasty and I can also say that the entrees were excellent as I sampled those of my companions. And so I was enthusiastic to return.
It wasn't long before we discovered that there were some new menu items, including a new soup, salad, and appetizer; the blini or crepe section of the menu was greatly expanded as was the selection of entrees. When ordering drinks we also found out that the beer list was incorrect and that there were, in fact, several new beers to be had. The Dulcinea opted for a Baltika #6, the porter, while I went with Obolon Premium, one of the newly available brews. The Baltika was nice and heady while the Obolon was a crisp lager.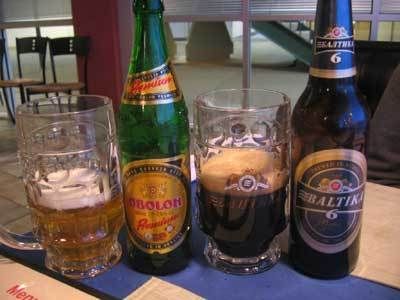 We started the meal with soup. The D had borsch while I went with the chicken soup with dumplings. Mine was quite tasty. I appreciated that it wasn't very salty and that the dumplings were real rib-stickers. While I'm not the biggest borsch fan, I thought it tasty. The D, on the other hand, raved about it. Great flavor plus it was nice'n'chunky. Oh, and we also got some bread as well.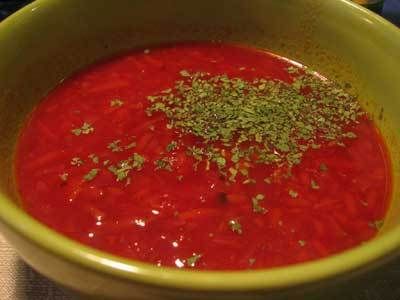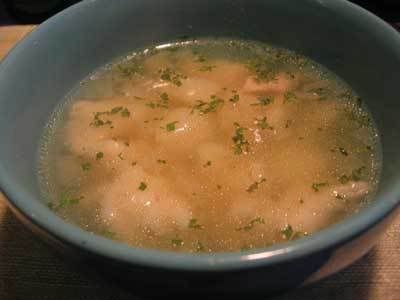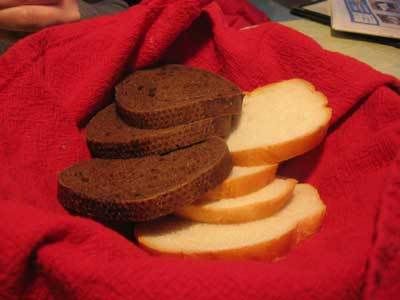 For the main course The D went with the chebureki (after all, the menu said that "Life without chebureki is a pure waste".) while I opted for golubsti which are cabbage rolls stuffed with rice and meat. Having an open kitchen, we could watch the cook roll out the chebureki dough.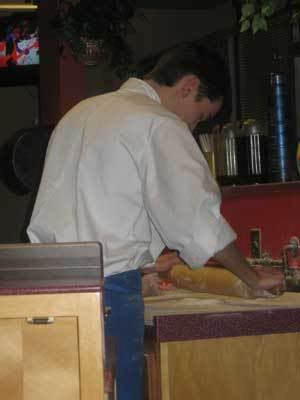 And here was our food: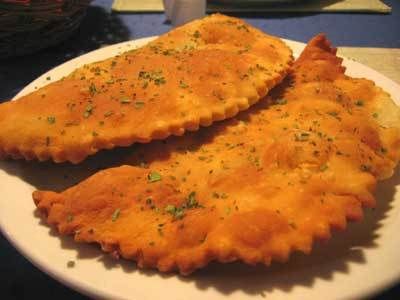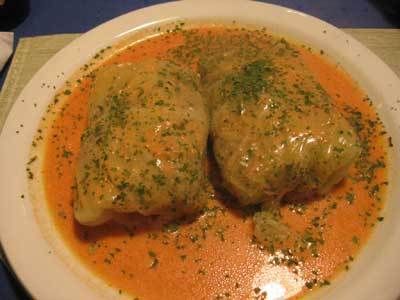 The chebureki differ from a pasty most noticeably in that it's deep fried. Also, it contrasts with them and the meat pies I have had in the South in that they are very thin. The dough was very flakey and fried to perfection as they didn't leave much of a greasy footprint behind. The golubsti were also great. These are a food that I ate often as a child and are a component of basically every country's cuisine in Central and Eastern Europe. My Polish grandmother would make them as they were here – in a creamy tomato sauce – while my German father would cook them with crushed tomatoes and sauerkraut. Arbat also threw some shredded carrot in the filling which worked very well.
For dessert we went with the cherry pierogi (dumplings). They were served with sour cream.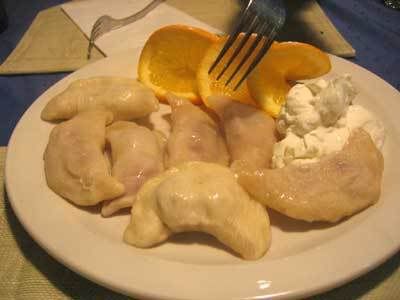 They too were very tasty. If you should order them, beware the cherry-laced water squirting out when you dig into one.
While I enjoyed the food & drink very, very much, I do have a trio of gripes. Firstly is that they do not serve vodka. Not that I'm complaining about the beer, mind you, but a shot of fire water seems necessary. Secondly, they should ditch the white bread and lay down more of the dark rye. My last gripe is location. A strip mall in Fitchburg is not the optimal dining location for me but what can you do? I'd also like to note here that the staff on both occasions were exceptionally friendly and cute waitresses with a Russian accent are a big plus.
I have read a couple other reviews of Arbat and, while they were both informative, I was disappointed that neither gave any indication that the diners had had any previous run-ins with Slavic food. It gave me the impression that most folks would approach Russian food as being this weird exotic experience. Surely I am not the only person in town who grew up eating cabbage rolls. Being 50% Slavic, it is frustrating at times to live in a city whose buzzword is "diversity" yet seeing precious little when it comes to a significant chunk of my ethnic heritage. This being the case, Arbat is a godsend.
The other reviews are at
Eating in Madison A to Z
and
Dane101
.