After heading out from Lapacek's and vainly trying to find
Eplegaarden
, we then discovered it wasn't open anyway. So it was off to Antojitos el Toril for dinner. It had been a while since we'd eaten there and I was hungry as a lone apple just didn't cut it. I have
written about it previously
and am pleased to say that I still love the joint.
We started off with horchatas all around and were served some chips and salsas.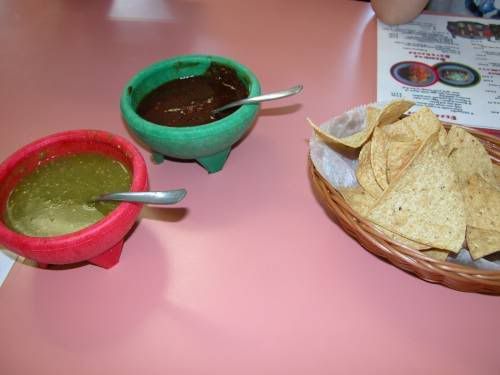 Our drinks proved a necessary palliative as the reddish-brown salsa is on the hot side. M. had put some on a chip but it proved too much for his 8-year old palate. I thought he was going to start balling but he braved the heat like a man.
Antojitos el Toril is an unassuming place. The furnishings are of a typical diner and there's the constant blare of the TV which alternated between a futbol match and a Mel Gibson movie dubbed into Spanish. There was a couple seated behind us and a gentleman sitting out in the other room in front of the counter. The guy was nursing a bottle of Corona while occasionally nodding off into siestaland. I think he had been out front with another gentleman putzing around with a motorcycle when we came in. I love AeT because it's not pretentious and foodies don't come here looking for a culinary experience as opposed to a meal. The joint is a restaurant and, while I don't exactly have my finger on the pulse of Madison's Latino community, it also seems to have become a hang-out.
Whenever I eat there, I am transported back to my youth and the home of my childhood friend Lalo Valdez. The Valdez family moved to Chicago when I was 5 or 6 and they lived across the alley and down the block from me. Mrs. V would make tortillas from scratch and the aromas from her kitchen were absolutely marvelous. She had 4 kids and a husband to feed so there was rarely a time when she didn't have something working on the stove. You could smell her cooking in the backyard. Mr. V was a great guy too. He put up with a bunch of little kids running around when he was trying to relax after work. Most evenings he sat at the kitchen table and ate pickled chili peppers. He would offer us punks a pepper to try and I remember well the first time I took him up on it. Man, I ran out the door screaming as Mr. V just laughed. And so, when I walk into Antojitos el Toril and I smell those aromas and I hear the Spanish being spoken, it really takes me back in time. It feels like home to me.
My waxing nostalgic aside, let's move onto the food. M got himself a chicken burrito.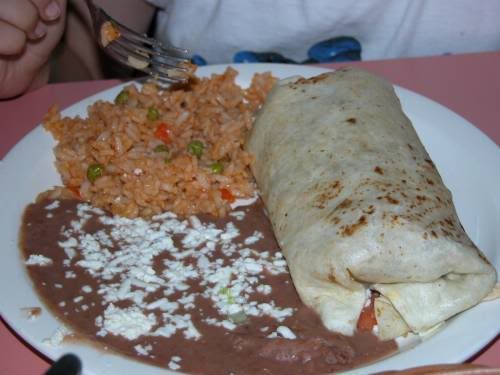 I personally think that 8 is plenty old enough to grab a burrito in your hands and start gnawing on it. But M eschewed this approach and hacked at it with is fork turning it into mush. I tried a bit of the chicken filling after he had finished and it was tasty. The D had ordered pazole.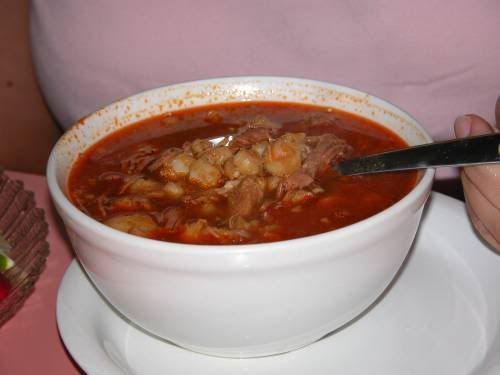 Pazole is a mild soup with pork and hominy that's seasoned with, amongst other things, chile. It was fantastic. With it comes a plate of fried tortillas, lime wedges, radish slices, and lettuce. After trying it, I longed for cooler weather when a hearty bowl of soup is the ultimate defense against the chill outside.
For my part, I went with the carnitas.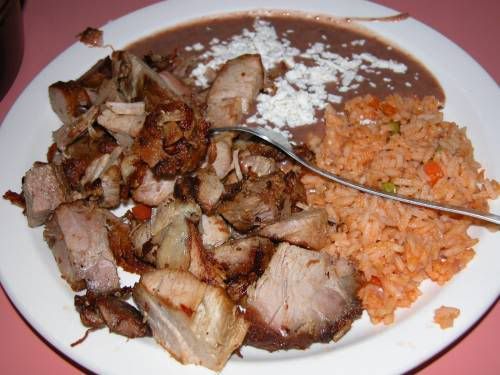 I'd had them there previously but I don't care. A plateful of pork is always a slice of heaven. While the meat was a bit dry, it was still pretty tasty. My horchata was soon drained as I had gleefully doused various sections of my plate with habanera hot sauce and got my mouth a-burnin'.
In a just world, there would be no Pedro's, Pasqual's, or Chipotle; Mexicali Rose would remain in the Dells to thrust its bland fare onto the unadventurous tourists; and one Tex Tubb's Taco Palace would be enough. But that's not the case. I cannot urge folks enough to check out Antojitos el Toril or any of the other small Mexican restaurants here in Madison where it's about good food and not about being seen or indulging in the blandest, most homogenized simulacrum of Mexican food that a focus group can imagine.