My mom was up here a couple weekends ago and she helped remedy a tragedy. Three days previous I'd ordered an Italian beef from Pizza Extreme. It had been ages since I'd ordered anything from them and, upon gazing at their menu for the first time in years, I was pleasantly surprised to find that they had Italian beef available. That sounded good to my Chicago ex-pat palate. Unfortunately, it turned out to be shite.
My mom called a couple days later and said that she'd be coming up to visit – was there anything I wanted her to bring? The first words out of my mouth were "Italian beef" as I had to make up for the travesty that Pizza Extreme sold me. And, man, did I ever.
Mom came armed with about half a gallon of gravy and two or three pounds of beef from Joseph's Finest Meats on Addison near Harlem and this provides me with a good learning opportunity. So listen up Pizza Extreme, Poppa Coronofoulos, Mad Dog's, Fraboni's and the other places around town that serve Italian beef sandwiches that range from mediocre to absolute shit.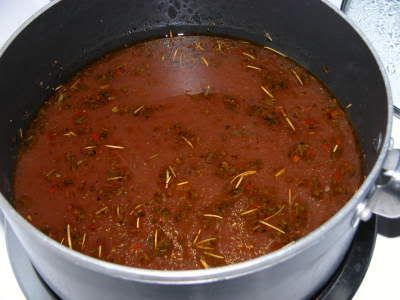 Look at the gravy. Here's a close-up for you: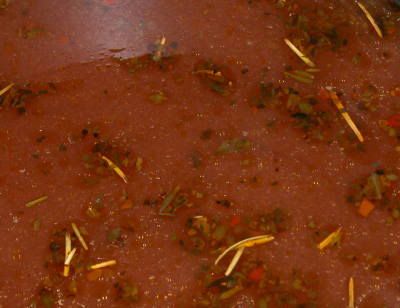 Look at it! There's actually herbs in it! See the rosemary, red pepper flakes, and oregano taking a leisurely swim, imbuing the gravy with their aromatic goodness. You don't dip Italian beef in what you get when you ruin perfectly good water with bouillon cubes; that's how you make soup in prisons.