In medieval England, it was said "God sends meat, but the devil sends cooks". Appropos of this was my Friday night at the Wisconsin Film Festival which ended with a showing of
Food, Inc.
. As the title implies, it is a look at the corporate control over America's food supply as well as a Michael Moore-like polemic against it.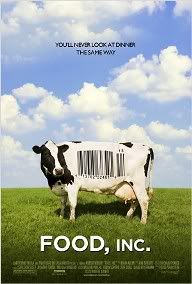 The film begins with a series of clips that try to capitalize on the positive connotations we have with all things "natural" as well as appealing to our sense of nostalgia. We are told that the way we eat has changed more in the last 50 years than in the previous 10,000. Someone else pops onscreen to decry the use of agrarian imagery in selling food produced with the latest factory methods while another interviewee reminds us that the modern supermarket carries all sorts of food year-round which has disabused people of the old-time practice of eating seasonally. Finally the dichotomy of multinationally-owned factory farms vs. small, private ones is introduced.
This opening sequence established the film's style – a mix of talking heads and stock footage – as well as its rhetorical style – statistics & history blended with a heavy dose of emotional appeals.
After the introduction,
Food, Inc.
is split into 10 sections, each emphasizing a different aspect of the corporate food chain. "Fast Food To All Food" starts things off by blaming the rise of fast food for turning our daily bread into an industry.
Eric Schlosser
, author of
Fast Food Nation: The Dark Side of the All-American Meal
, inveighs against the Golden Arches for introducing the factory system to food. They needed big suppliers to provide volume. Today we see the results with the pork and beef markets being dominated by a handful of companies. Chickens fair no better in this scheme. Companies like Tyson demand that the animals grow larger and quicker than in the past while the lives of the chickens themselves has become nugatory. Millions of them spend their short lives in horrible, crowded conditions where everyone's favorite white meat never sees the light of day.
I found it odd to blame McDonalds and its demand for the industrialization of the food chain. What was Upton Sinclair
bitching
about at the dawn of the 20th century if not a factory system that chewed up and spit out workers and the quality of the product be damned?
Over the next 80 or so minutes,
Food, Inc.
covers a lot of ground. Corn and the massive government subsidies the people who grow it receive gets due attention. These subsidies explain why everything has corn syrup in it these days as well as why meat is comparatively cheaper today: feeding animals corn is much more inexpensive than letting them wander a field chewing on grass or feeding them other grains. The section entitled "Unintended Consequences" notes the massive amount of pollution that factory farms create in the form of run-off as well as the inability and/or unwillingness of the USDA and FDA to do their jobs properly. It is also here that the worst of the film's emotional appeals has a home. We are introduced to a woman whose son died of e-coli poisoning and has refashioned her life as one of a food safety activist. While her attempts to lobby a Congresswomen are worthy of inclusion, the overwrought melodrama of her son's death was incredibly overdone and was a huge distraction. "Bullshit emotional appeal" are the words I wrote down during the screening.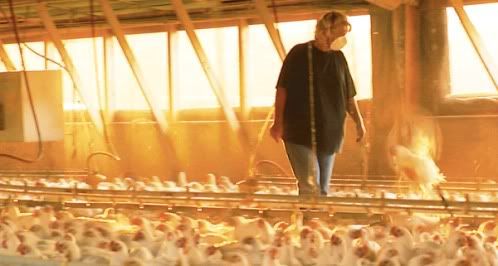 Again, the film says a lot and it's easy to get lost amongst statistics, the terrifying tales of Monsanto lawyers, gross-out scenes (such as when the viewer witnesses hamburger meat filler being cleansed with ammonia), and the nostalgia for the days when there were actually butchers with shops on street corners.
Food, Inc.
is nothing if not a visceral movie. (No pun intended.) And there is a trio of points with which I took real issue.
First is the section "The Dollar Menu". We follow a family eating from Burger King's dollar menu and they tell us that they lack the time to cook and are too poor to eat well by shopping at a grocery store. The film pulls out a heavyweight -
Michael Pollan
, to counter the family's comments. He notes that fast food is cheaper only because the industry is heavily subsidized. The increase in Type II diabetes is also noted, the implication being all that corn syrup available at fast food joints.
I was reminded of
comments
by another person who has written about food, Barry Glassner. He said, "The fast-food industry deserves a lot of criticism and I level it in the book, but at the same time, to be able to get a complete or nearly complete meal for a few bucks, with distractions for the children thrown in at no extra cost, is not in itself a bad thing. And until those of us on the progressive side of the political spectrum have real alternatives in place, we'd be well advised to look at the good as well as the bad."
The movie avoided addressing the concerns of that family. All it could say in return was that fast food was bad as an industry and as food. It should be noted that at the end of the film, a list of things people could do was given and this included buying local, buying organic, and growing a garden. Good advice but good only for folks like those in the audience that night at the Orpheum: middle class people who can actually afford the prices and had the time to dedicate to a garden. If the family above can afford conventional foods, how are they supposed to be able to buy organics and/or locally grown foods which are much more expensive?
Second is a quote from a chicken farmer in the part of the film called "In the Grass". He says that, yes, we can feed the world without industrialized farming. Hand in hand with this comment is
Food, Inc.
's implication that genetically altered foods are bad. The film spends an hour and a half being critical of industrialized farming but that chicken farmer's comment is the only time where it addresses whether or not the world, with a population hastily approaching 7 billion people, can be fed using small scale farming, "natural" techniques. Although skeptical, I'm willing to concede that that farmer may be right. Unfortunately all
Food, Inc.
does is give that lone statement before moving on to shots of pigs being led to the slaughter. When biologist E.O. Wilson spoke here a few years ago, even he
conceded
that genetically altered foods would probably be necessary to feed the world. He may be wrong but by simply letting one person have the be-all-end-all comment on the subject, the film really drops the ball.
The last thing in the film which got in my craw was how it dealt with nostalgia. While some of it was perfectly applicable, the overall message was that, before McDonalds food was safe and natural. The thing is, this is untrue. As I noted above, Upton Sinclair found deplorable working conditions on Chicago's killing floors as well as tainted meat. A 14th century Londoner might well have bought a pasty made with offal or found that his venison pasty really contained beef. Going back further to ancient Rome, we find that lead was used to make poor quality wine sweeter. The romantic notion that
Food, Inc.
purveys of a time when all food was wholesome and people didn't get sick from what they ate is pure fantasy.
Another aspect of the film's use of nostalgia involves fast food. It wants you to believe that there was this prelasparian state where everyone ate home-cooked meals or ate at nice restaurants and then fast food came along and changed drastically things for the worse. While the fast food industry of today is quite new, fast food has been with us for centuries. As Vickie L. Ziegler wrote in her essay "Fast Food in Medieval Europe":
While we generally think of fast food as a uniquely American invention of the late twentieth century, it has in fact been around since Roman times in urban settings in which there were a great many poor and /or single adults living in small rooms… Many artisans, other workers, and classes of the urban poor, such as impoverished widows, lived in single rooms, where there were no cooking facilities, not even a hearth.

Fast foods of the London of the late 13th and early 14th centuries containing wheat included pies, hot cakes, pancakes, and wafers. Meat pies and pasties were especially adaptable for ease of carrying and consumption, much like today's Big Mac.
Several hundred years ago meals ready to eat were mostly consumed by the urban poor and we know how those pasties could be a bit spotty. How little has changed with regards to fast food – it largely plays the same role today as it did centuries ago. Telling people who rely on fast food to go organic and local is not a real alternative.
Despite being very informative,
Food, Inc.
's myopia lessens its impact as something which induces contemplation. It asks only those questions which can be answered with "Corporate/fast food agriculture sucks!" and doesn't compel the viewer to look at a larger picture which includes a realistic view of history and people who cannot afford to shop at Whole Foods.
Folks interested in this subject should know that Michael Pollan will be speaking here in Madison come
September
while the movie
Sustainable Table
will be playing here in November at the
Tales From Planet Earth
festival.