On Saturday night The Dulcinea and I were out on the west side when we found a menu for Pollo Inka, a new Peruvian restaurant about which I
spread rumors
last month.
It resides in the mall at Old Sauk and High Point – the one with the Ashman Library in it. The space is fairly small but had a cozy atmosphere. We did take away so I can't really comment on the service other than to say that the guy who took our order was really friendly and eager to refill my soda glass as we waited. He also told us that the place had opened on Friday so we were only a day late for the grand opening.
Pollo a la Brasa
or rotisserie chicken is the house specialty and that's the route we took. Also on the menu are a bevy of apps including four varieties of ceviche. In addition to the house specialty, main dishes include
Brocheta de lomito
(beef tenderloin shish kebab),
Aji de Gallina
(a chicken casserole), and a Peruvian-style pasta dish called
Tallarin Verde
. Two soups are available with the
Parihuela
, a mélange of seafood, touted as "A restorative aphrodisiac".
We opted for the Inka Combo which was comprised of a whole chicken, rice, beans, French fries, and an avocado salad.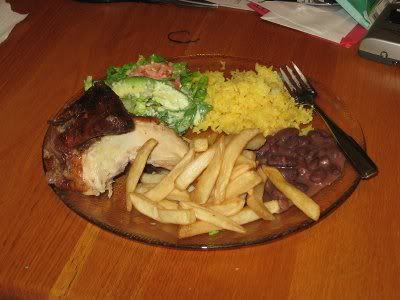 As the sides went, the fries were fine. The salad was tasty as well with lots of avocadoes, as one would expect. It was leaf lettuce and a special dressing. Although the dressing was very good, I thought they used a bit too much. Dress the salad, don't drown it. The saffron rice was great – cooked well and just the right amount of seasoning. It made a nice complement to the red beans which were also cooked just right and very flavorful. They used enough fat to give the thick gravy some heft instead of being watery, as is the wont of some joints.
The pollo was great and it came in four quarters. Now, mind you, we lugged it across town and ate it at home so the chicken goodness had cooled down a bit. Still, the flesh was tender and very flavorful with sage really standing out on my palate. The skin was a bit limp but I suspect that, had it not been in a styrofoam container for a stretch, it would have been nice and crispy. If you get some, be sure to savor the wings. They're not the meatiest part of a bird, but the marinade is able to penetrate thoroughly so each bite is jam-packed with fine Peruvian flavor.
Although available, we didn't get any dessert and the take away menu doesn't list what they offer. While the desserts sounded tasty, I was a bit perturbed at the presence of a can of Cool Whip in the refrigerated display case.
Next time I go, I plan on trying the
Chicha Morada
, a purple corn drink with pineapple water, cinnamon, and lemon. They keep it in vat atop the display case and it had fake ice cubes it in that lit up. All they need now is a Jacob's Ladder.