On Saturday morning we ate like a Kaiser. I don't know why but I just felt like making
Kaiserschmarrn
or "Emperor Pancakes". It was fairly time-consuming but ultimately exceedingly tasty.
The pancakes are very thin like crepes and made with a goodly number of eggs. Here's one cooking away.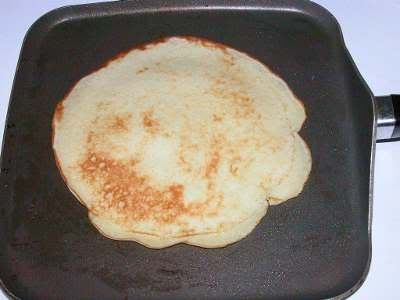 As I grilled the cakes, there was a whole lotta butter lurking in the background biding its time until it stepped into the limelight.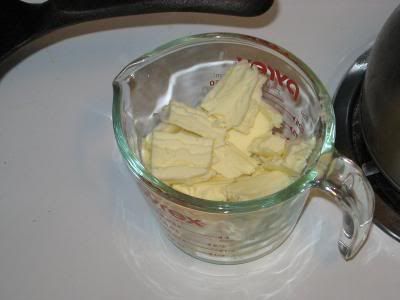 Once you've made all the pancakes, you melt a stick of butter. I added some dried currants and cinnamon.
Then you rip apart the pancakes into manageable sized strips and toss them in the butter along with some sugar.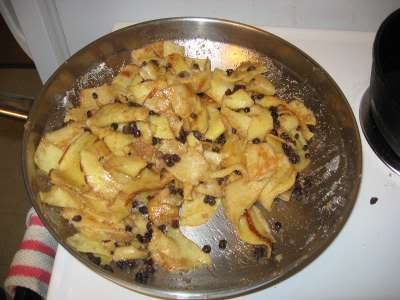 And voila!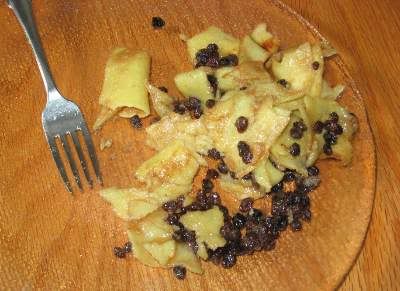 I don't want to brag but, if I didn't know any better, I'd say they were professionally made. Very rich and sweet. Next time I'd like to try serving them with less sugar and perhaps a fruit sauce or compote.
While I was in the German mode of cooking, I also made
Rinderrouladen
(Braised Beef Rolls) und
Meerrettichkartofeln
(Potatoes in Horseradish Cream Sauce) last night for dinner. Here's a photo.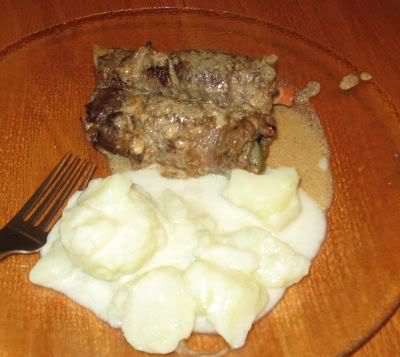 Rouladen is simply a very thin slice of round stuffed with stuff and rolled up. It can be filled with pretty much whatever you like and I tend to like carrots, pickles, and onion with the onion sautéed in bacon fat. Bavaria Sausage on the southwest side has pre-made rouladen but they also carry the sliced beef alone which is handy. I braised mine in a mixture of beef stock and Capital Imperial Doppelbock. The beer, to my mind, was disappointing. I found it to be rather thin. Instead of a rush of sweet malty goodness, I found that the hops dominated. Bad batch? Had my palate been infected? I'm not sure. Regardless, I hope that Kirby gets this highly hopped bock thing out of his system.
The spuds were pretty tasty but could certainly have been better. For one thing, we only had 1% milk on hand when it really needed a fattier variety as the sauce cried out for a little more body. Secondly, more horseradish was in order. It didn't need a country ton. Just a smidgeon would have worked. Still, they weren't bad.