I now have Great Taste of the Midwest tickets in my possession and have been scouring the program for beers to drink. Too bad neither Lazy Monk nor Valkyrie will be there. I was also disappointed to see that Metropolitan won't be bringing any of their Arc Welder Rye Dunkel but such is life. On the other hand, they are bringing their zwickel. I am sorely tempted to stand outside the Vintage's spot and drink
Tippy Toboggan
all day but I hear that the Vintage cellar is being cleared out and it will be back on tap tomorrow. Or next Friday, I can't recall. There will be a couple goses including Sam Adams' take on the style which, for some odd reason, I cannot find here in Madison. I also noticed a couple Berliner Weisses including one from Miller's R&D brewery which sounds like a really fun novelty:
Bubblelicious Weisse: ABV 3.3%, 7.4°P, , IBU 5, Berliner Weisse. Wheat and Pale Malts. CDH (Debittered Hops). Top-fermenting wheat beer, with the quenching sourness of a lactic fermentation. This classic sour German beer is served with an Asian bubblelicious twist. This new addition is a translucent gummy ball that contains flavored juices in the center which "pops" with every bite. The bursting bubbles come in Lychee, Mango, Orange, Passion Fruit, or Strawberry.
If my plan to sample the Imperial schwartzbier and every Baltic porter comes to fruition, I may need to be carried out.
I would like to second this idea from Metropolitan: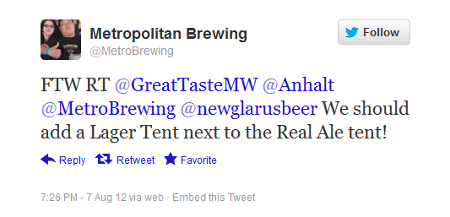 Since it is going to be a while before this happens, I will now extend an offer to Metropolitan, New Glarus, Capital, and anyone else who brews lagers: I'd be happy to pitch a tent in my backyard to be used as a prototype. Consider it a test run (an ongoing one, if need be) until the MHTG sees the light on lagers.
Obergäriges Lagerbiers
will be welcome too.
News from New Glarus is that they brewed a new
R&D sour brown ale
in honor of the Great Taste:
Madison's Great Taste is coming up and we promised a new R and D release in it's honor. Announcing the latest R and D a Sour Brown Ale. 150 cases have been spontaneously fermenting for over two years in oak with a final finish carbonation in the bottle. This beer is funky and sour. 50 cases will be released Thursday Aug 9 at 1:00, fifty more 10:00 Saturday morning and the last fifty cases will be released Sunday morning at 10:00. Two bottle limit per person. 8.00 per bottle.
The Great Dane has started bottling. The new Un-Leashed series comes in bombers. MadTable has the
straight dope
.
Lastly, the label for Leinenkugel's new seasonal. Snowdrift will replace Fireside Nut Brown. How much do you want to bet this will taste like a vanilla milk shake made with beer?