The big news for craft beer geeks in Madison and perhaps Wisconsin is that Kirby Nelson
is to leave Capital
to work at the new Wisconsin Brewing Company which is helmed by Carl Nolen, former president of Capital.
Wisconsin Brewing Co.'s $3.75 million facility in Verona is not only being built to make up to 300,000 barrels of beer a year, but its brewmaster is considered by many to be one of the deans of the craft brewing industry.

Kirby Nelson, the creative force behind award-winning beers at Capital Brewery in Middleton since 1987, has been named the brewmaster at Wisconsin Brewing. Nelson brings instant credibility and marketability to a company still more than six months away from selling its first glass of beer.

The brewery will have a capacity of 300,000 barrels per year from the get go?! That's double what was reported
here
. ("Nolen told the commission the brewery will be capable of producing 150,000 barrels a year and that the facility will have the company's full brewing capacity available in its first phase.") Still, either number is very ambitious. If you take all the Spotted Cow, Hopalicious, Supper Club, and Sprecher Amber brewed last year, you'll probably get into the 150,000 barrel neighborhood. Perhaps they'll do some contract brewing. I learned the identity of one of the investors in the new brewery and was told this person is a fiscally conservative individual so I am under the impression that the business plan would have to be very sound to get their money involved.
So what are they going to brew? According to Nolen, they "are going to produce all different kinds of styles". Do the recipes for Capital's beers stay there or will Kirby be taking them along? How could he part with his beloved doppelbocks? A couple of my co-workers think Kirby is "selling out", i.e. - the new brewery will emphasize pale ales and Supper Club clones. How else are you going to keep all that shiny new brewing equipment from sitting idle? But there's also a quote in the article from Nolen in which he refers to his business plan by saying "It captures our (state's) heritage" and Wisconsin's brewing heritage is usually thought of as being lagers.
Conversely, what happens to Capital? "A nationwide search is under way to find Nelson's replacement, but in the meantime, Brian Destree, who has 10 years of brewing experience with Leinenkugel and Miller, will serve as acting brewmaster." Are they going to move away from lagers and towards ales?
It will be feel odd drinking a Capital knowing that Kirby didn't brew it since he is the image of the brewery to my mind. I recently visited a friend from college with whom I amassed a beer bottle collection and we dug out some old Capital bottles.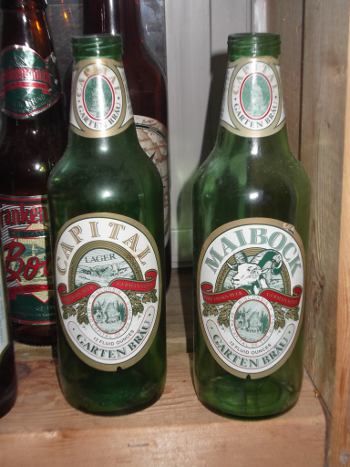 It's weird to think that I've been drinking Capital for over 20 years now. Kirby's were the first seasonals that I looked forward to on a regular basis - Oktoberfest and Mindblock, er, Maibock. His were also amongst the first craft beers I ever drank. Time marches on, I suppose.
Perhaps the most important question is who will be riding a dinosaur while throwing chub at revelers during a bockfest?