Last week The Dulcinea and I went to the Vintage for dinner. We were seated by the host but, before our waiter made his way to our table, I looked up from the menu to discover that brewmaster Scott Manning was placing two sample glasses of this year's
Tippy Toboggan roggenbier
down. He knows I think the stuff is the nectar of the gods. A nice way to start my night.
I didn't know that TT had just been tapped and so I had a different goal in mind. Spin down the ages...
It's the year 700 C.E. and you live in a Bavarian village. Let's say you're the blacksmith. What do you with your buddies the baker, cobbler, and tanner when it's quittin' time? You reach for a cold one, of course. The thing is, hops are about 100 years off. Hopheads haven't been invented yet. Instead you're drinking gruit which is basically beer before the introduction of hops. Your brew might have had a combination of bog myrtle, rosemary, yarrow, woodruff, and other herbs and spices. Coriander found its way into beer occasionally. The ancestors of all those crazy Norwegians in Stoughton are using juniper in their gruit while sweet gale was popular in Denmark and areas of Scandinavia.
I had come to the Vintage for this: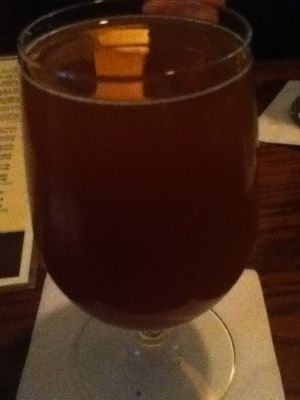 That's Toil & Trouble, the gruit brewed by Scott and Mark Duchow of Sweet Mullets in Oconomowoc. It was a nice reddish brown and slightly cloudy. The aroma was slightly sweet with a fairly strong herbal component. The brew was made with heather tips and mugwort and, to my nose, it smelled like heather. I say this because I've had
Fraoch Heather Ale
and T&T smelled like it tasted.
T&T also tasted a lot like Fraoch in so far as the heather was very prominent. Think floral. I can't tell you what mugwort tastes like but I believe the floral aspect of the brew comes from the heather while the slight bitterness was from the mugwort. In an effort to make something akin to a period brew, Messrs. Duchow and Manning used some peat-smoked malt. All malt was smoky back then as you dried the stuff over a fire because the use of indirect heat and pale malts were still centuries away. They didn't use a lot of the smoked malt here as its flavor was subdued and instead blended well with the herbs and malt. Also in the mix are wild yeasts which yield a prominent sour flavor. In the end you get a drink that has a nice blend of malt sweetness and heather with some smokiness that yields to a pleasant tartness and a bit of bitter. There is a helluva lot going on here and everything is balanced really well. Considering the base is that of a Scotch ale, T&T does not have a heavy mouthfeel. Indeed, it is very quaffable and, weighing in at 7%+ ABV, it can be dangerous.
Other than Fraoch Heather Ale, the only other commercial gruit I know of is
Professor Fritz Briem 13th Century Grut Bier
and I just happen to have a bottle of the stuff in my cellar. Perhaps I can bust it out soon and do a gruit comparison.
Junk food pairing: Pair Toil & Trouble with Frytor of Erbes. A judicious selection of herbs and a drizzle of honey on the frytor will complement the gruit's own herbal flavor and sweetness.
P.S. – we got a mispour so, in addition to the very tasty sour barrel aged Pumpkin Disorderly, we also got a free Alpentraum, a rauch weizenbock. All four beers we tried last week were very tasty but think the roggenbier needs to mellow a bit.