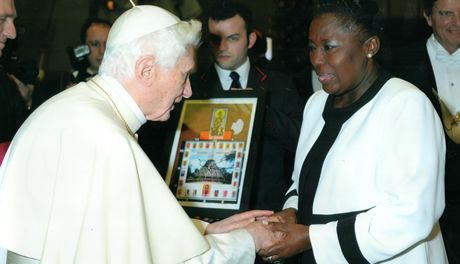 That's Pope Fritzy
bestowing his blessings
upon Rebecca Kadaga, the Speaker of Uganda's parliament. Kadaga is infamous for her push to pass the Anti-Homosexuality Bill which, among other things, allows the death penalty for those who commit "aggravated homosexuality", whatever the hell that means.
Passage of the bill would be
"a Christmas gift"
for some Christians:
Some Christian clerics at the meeting in the Ugandan capital, Kampala, asked the speaker to pass the law as "a Christmas gift."

"Kill the fags" - quite a stocking stuffer. So much for goodwill towards men.