A couple new labels from Capital.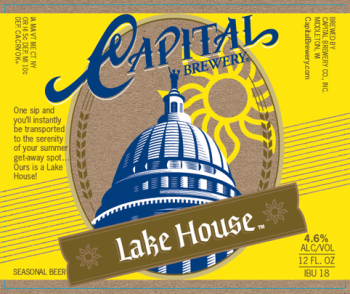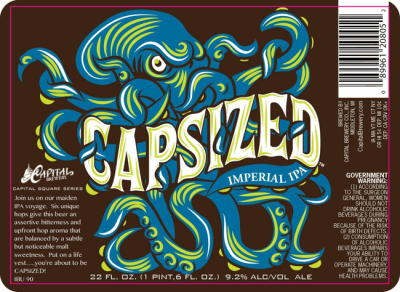 Lake House is their new summer seasonal and I believe it is a pre-Prohibition style brew. Capsized is to be the next entry in the Capital Square bomber series. It's a double IPA with 90 IBUs and weighs in at 9.2% ABV.
A new era has dawned at Capital now that it has ceded its destiny to the whims of the Beer Advocate crowd. Their
Mutiny IPA
has apparently been released early as I saw it on store shelves this past weekend. I bought a sixer and, although I have consumed a bottle by myself, I did have a couple swigs.
I figured Mutiny would be a C-hop lover's wet dream but I am pleased to have been wrong. Hop-wise, Mutiny begins with a very floral flavor but finishes on a grassy/herbal note. I detected no citrus/grapefruit at all. The best part, though, is that Mutiny isn't hop water as you can actually taste a malt backbone that just about every pale ale/IPA claims to have but doesn't.
If Capital is hell bent on IPAs, then I think Brian Destree should add some rye to the equation and call it Drivelswigger Rye IPA.
On a completely different note, take a look at this
motley crew
. A bunch of brewers got together to brew this year's Common Thread beer over the weekend. How'd you get in there, Joe? And I think my friend Scott Manning had had a few before he was interviewed: "...to elevate our state's brewing culture beyond its gilded history, into a future of relevance leadership, and prestige." Where did this come from? I wonder if he was reading cue cards.
Labels: Beer, Beer News, Capital Brewery