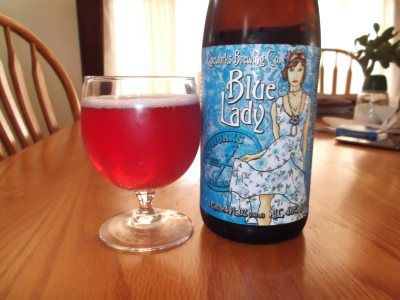 I bought this bottle last autumn and have been saving it for a warm day. Little did I know that it would take until the last day of April for the appropriate weather. (And we'll be reverting back to bock weather shortly.) Chicago's
Pipeworks Brewing Company
has been gaining a good reputation with IPAs that have "ninja" and "unicorn" in the name but what attracted me is the fact that they have brewed four varieties of Berliner Weisse. In this case, we have one that was aged on fresh blueberries.
Berliner Weisse is a sour wheat bier that is top-fermented and seems to come from a family of Northern German beers which also includes
Gose
, the
grätzer/grodziskie
, and Lichtenhainer. As lagering became trendy and Bavaria's
Reinheitsgebot
became the law of the new country called Germany, these styles either died out or hung onto their dear lives by a thread. Berliner Weisse, then, is something of a relic of the days before the pils became ubiquitous and I've read that there were hundreds of breweries making Berliner Weisse in Berlin at one time.
Blue Lady is a very pretty beer. It's a light purple with a distinct reddish tint and is hazy. She is well-carbonated with lots of big bubbles giving a large head that dissipates quickly. Pouring it sounded like pouring soda or champagne with that loud fizzy sound. And the aroma was marvelous as well. The bright sourness came first but found some balance with sweet blueberries.
As you would expect, the lactic acid really comes through on the palate. It is very sour at first but mellows a bit to a lemony tartness. The Berliner Weisse used to naturally pick up
brettanymyces
back in the day but there's no hint of a wet blanket here. Disappointingly, the blueberry is very much in the background where it mixes with a floral flavor. I wasn't expecting Blue Lady to be sweet as when you serve a Berliner Weisse
mit Schuss
- with a now-traditional shot of
Himbeere
(raspberry) or
Waldmeister
(woodruff) syrup, but I was hoping for the berry flavor to be a bit more prominent. I found that it helped to breathe in the aroma while drinking as this brought out the blueberry.
Before having drunk enough of it to neutralize most of my tastebuds, I caught some clove as well as a bit of herbal hoppiness and the beer was moderately dry overall. Blue Lady is 4% ABV which I believe is a bit higher than the Berliner Weisses being brewed in Germany today but it still has a light bubbly mouthfeel. It finishes dry and tangy.
Despite the paucity of blueberry, I very much liked Blue Lady. It has a nice tartness which was augmented by the berry flavor just enough to make things interesting. Plus it was extremely refreshing in yesterday's 85 degree heat. It's too bad that Wisconsin brewers don't brew this style. At least they don't bottle it if they do. The last time a local Berliner Weisse was on store shelves here must have been back in 2008 with New Glarus' take on the style. I thought Blue Lady was just a touch less tart than Dan Carey's brew.
Junk food pairing: Provolone Cheez-Its. The creamy cheese flavor will sit well against the tartness of the beer and the subtle smoke flavor will fool your tongue into thinking you're drinking a Lichtenhainer.
Labels: Beer, Berliner Weisse, Pipeworks Brewing Company