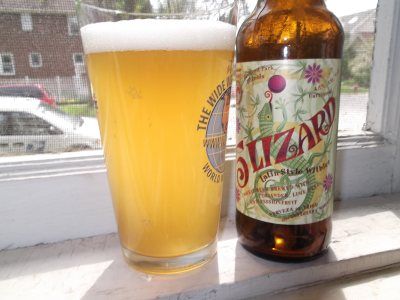 With the weather finally moving into summer territory I thought the time was right for some
5 Lizard
, a Latin-style witbier by Chicago's 5 Rabbit. I first time I had it was at The Great Taste of the Midwest a year or two ago and loved it on that 80+ degree day. A fantastic summer brew. The witbier is a Belgian wheat beer commonly spiced with coriander and bitter orange peel. Here the folks at 5 Rabbit replace the orange with lime and give it a tropical twist with the addition of passion fruit.
5 Lizard poured a hazy yellow and had a nice, frothy white head. (I believe both of these characteristics are due to the wheat.) The glass really glowed in the sun on my porch. It was well carbonated too. Upon smelling it, my nose was struck by the passion fruit first and foremost but there was also a slight bit of herbal hoppiness in there.
The beer has a light and bubbly mouthfeel along with a lovely creaminess on the tongue which I think it owes to the oats in the grain bill. The passion fruit is prominent here with its succulent sweet and sour flavor cozying up to your tastebuds. The tanginess of the lime was also present making this a very fruit forward beer with the carbonation accenting these flavors. While fainter, the coriander was unmistakable. To top things off there was also some graininess present that was vaguely sweet. That's a lot of flavors to juggle and 5 Lizard pulls it off well. The fruitiness dominates, to be sure, but the other flavors don't let it run away with the show. Everything balances out in the end.
The brewery states that 5 Lizard has Motueka hops in it which I discovered to be a variety from New Zealand that has a citrus/tropical fruit flavor and a Noble hop aroma. While I caught the aroma, I'm not sure about the flavor. I didn't find it hoppy; then again, this is probably the first and only beer using Motueka that I've ever had and was expecting more of the Noble flavor since it was in the aroma. More fool me.
The finish is smooth with the lime zestiness and more passion fruit goodness that lingers for a short time.
I have to admit that I liked 5 Lizard even more than when I had it at The Great Taste. My tongue hadn't been battered with a dozen other brews when I had it this go round like it had been at the festival. It is light and smooth plus it has a delightful myriad of flavors that balance well. At 4.3% ABV this beer is quite sessionable and incredibly refreshing.
Junk food pairing: 5 Lizard pairs well with friend plantain chips.
Labels: 5 Rabbit Cerveceria, Beer, Witbier