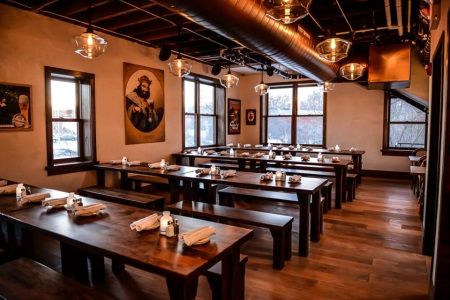 The food and drink part, anyway.
Above is the shiny, new dining room at
Cafe Bavaria
which opened in Wauwatosa earlier this week. It is the latest German food establishment to open its doors in the greater Milwaukee area recently and join fixtures like Mader's, Karl Ratzsch's, and Kegel's Inn. Cafe Bavaria is a more contemporary and upscale place than the mainstays. You can get schnitzel but also Bavarian pho. (?!)
The beer menu looks good. You've got your typical helleses and weissbiers but also two Kölsches (one on tap that you can get in the proper - .2L – sized glass), an altbier, a radler, three rauchbiers, and even a German pale ale. To their credit, there is also a selection of Sprecher and Lakefront brews as well.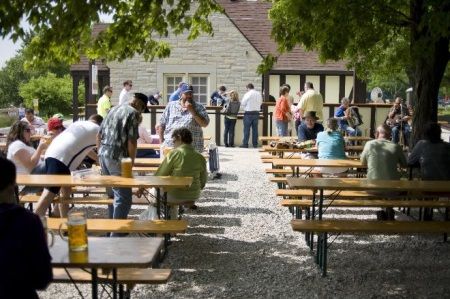 The north side's
Estabrook Beer Garden
, a public bier garten like those in Munich, turns three this year. Estabrook is a sister establishment to the
Old German Beer Hall
in Milwaukee which opened back in 2005.
And that's not the end of it. Also planned is another bier garten in
Bay View's Humboldt Park
which is, interestingly enough, just a block from a friend's house. And in suburban Glendale the former Bavarian Inn will be turned into
an official U.S. Hofbräuhaus outpost
. The Hofbräuhaus will brew on premises so patrons will have fresh bier.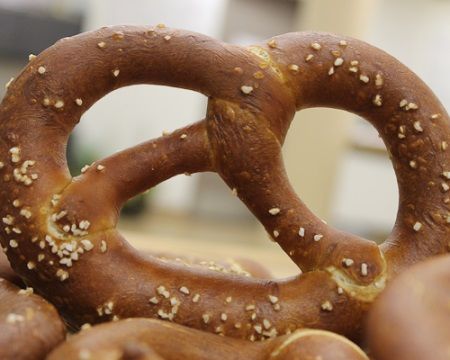 In addition to restaurants and bier gartens, we have the
Milwaukee Pretzel Company
which opened last year and makes Bavarian-style pretzels.
I wonder why there is this resurgence in German food and drink. Perhaps it's simply a case of what's old is new again. I found
this article
about Milwaukee rediscovering its German heritage but it really doesn't have an answer beyond the possibility of people just looking back at their and Milwaukee's past. I guess it's a task for an aspiring sociologist.
Concomitant to this, I noticed last month that an upscale contemporary German restaurant has opened in Chicago -
The Radler
. They even have a couple haus biers including a radler.