With the weather getting warmer, albeit slowly, I'll be transitioning to lighter fare from dishes like this.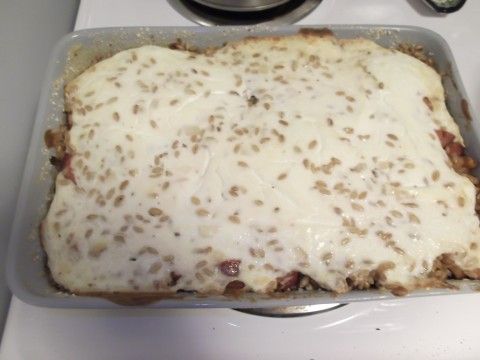 This is a Polish casserole called
kasza jęczmienna po staropolsku
which is apparently translates, more or less, as Old Polish Barley, Bean, and Sausage Casserole. It's a tiered affair where layers of barley alternate with those of a mix of navy beans, kielbasa, onion, a bit of tomato sauce, and plum jam. Well, it should have been plum jam, anyway. Plum is apparently not very popular and I couldn't find it at Woodman's when I was shopping for this recipe. (I found Smucker's plum jelly a week or two later.)
Underneath that sour cream baked-on goodness, you get this:
Although tasty, I screwed up and made too little of the bean-kielbasa mixture. There's only so much hot sauce can do against an onslaught of barley. Next time it'll be double the mix.
Labels: Cooking, Food, Polish, Polish food