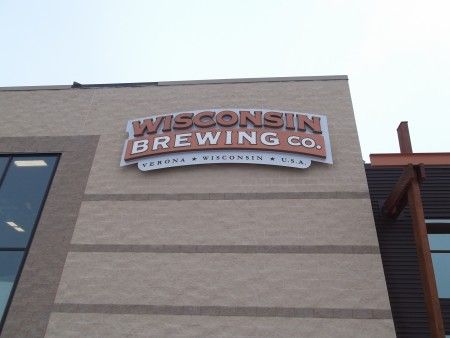 Madison Craft Beer Week
begins in nine days but The Dulcinea and I began celebrating the annual event last month with a trip to the
Wisconsin Brewing Company
to watch the state's brewing intelligentsia watch as Kirby Nelson's fancy new brewhouse did all the work in whipping up this year's Common Thread. For 2014 we're getting a Bohemian Pilsner made with Sterling hops instead of the traditional Saaz. It was my first visit to the new brewery and it was mighty impressive.
We arrived around 10:30 that morning only to find that the work was done. The brewers gathered from around the state were instead milling about and taking turns peering into the mash tun like expectant fathers while tour groups wandered amongst the stainless steel forest. We settled into our seats and had some beer. After an Amber, I tried the Porter Joe, their porter infused with coffee, and it was fantastic. I believe it was originally brewed as a one-off for some event but it went over well enough for another go round. It has a very nice balance between the roasted malt and coffee flavors. It's balanced and drinkable.
Here's Scott Manning from Vintage being chatted up:
And here's the brewers all lined up for their photo op:
This is Kirby test brew setup.
For a fee, you can brew a beer with Kirby on it and then invite all your friends to the tap room and enjoy it. It sounds like fun but I'd probably brew something with rye, end up with a congealed mess, and have Kirby yelling at me for hours as I cleaned it.
The tap room was expansive.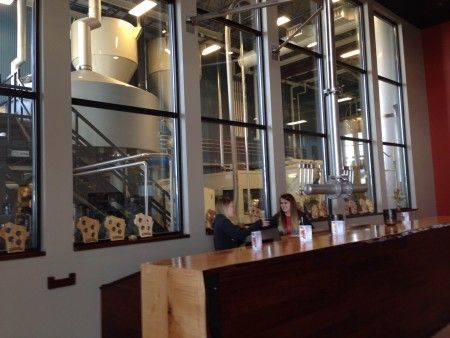 With its vaulted ceiling and all of the windows looking into the large brewhouse, it had a very industrial feel as opposed to the nice, comfy atmosphere you find at your local tavern. But it's a tasting room and not a contender for third place for locals, I suppose.
We got back into Madison a little after noon so it was off to
Next Door Brewing
for a nooncap.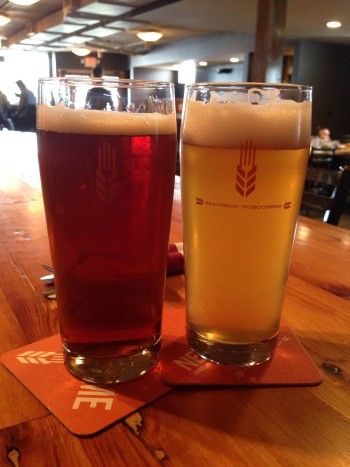 I cannot recall what The D ordered but I went with the gose and it was delicious. A bit heavier on the salt than the previous takes on the style I've had but it was still quite enjoyable and very refreshing. I intended to return a few days later to get a growler of it but the brewpub's website didn't list it. Hopefully it'll return in the summer.
Getting back to Craft Beer Week, I feel rather underwhelmed looking at the schedule. I also feel saddened that lagers are apparently the Craft Beer Week orphans . Witness the
"Lagers: An Overview"
event.
It's easy to think of lagers as the bland and flavorless over-produced light beer domestically produced, but they can range anywhere from new and exciting styles like the hoppy India Pale Lager to the traditional deep, rich maltiness of a doppelbock. We'll have some of our favorite examples on hand for you to try.
It seems that every other event that week will be about barrel-aged imperial stouts, IPAs, and sours brewed with bacteria recently extracted from the deepest, darkest depths of the Congo and so lagers are thrown into the ghetto and get a token event. I am reminded of a recent blog post by
Lew Bryson
(a man on a crusade to promote session beers) in which he was critical of craft brewing groupthink:
I'm actually getting more concerned about the lame groupthink and sheep mentality represented by "session IPA," especially since it's Sierra Nevada. I really expected something better from a brewer that has produced an iconic, leading Pale Ale, Barleywine, American Stout. I expected a brilliant Bitter, a fearless Mild. But we got a following beer from a brewer that's a leader. I expect better.

I expect better from the whole industry. I should be happy on Session Beer Day, and to some extent, I am! It's great, we're seeing a LOT more session strength beers from notable brewers, and more and more of them at brewpubs. But...an unending parade of "session IPA"?

GOD DAMN IT, AMERICAN BREWERS! You're BETTER than this! And I'm not just talking about session. American craft brewing has become a pathetic nation of followers. Look, a sour sold, let's make one! Look, session IPA sold, let's make one! Look, limited edition beers sold, let's make one! I weep for you. Truly. Show some balls, at least come up with your own name, like "fractional IPA."
Moving back to Kirby and Wisconsin Brewing, they now have a Maibock out called Big Sweet Life.
I've not had it yet but have been told it's a bit hoppier than the version Kirby brewed at Capital and perhaps slightly less sweet as well. Rumor has it that Porter Joe will be draught-only for a bit before being bottled later this year. Kirby apparently has a helles ready for release and is planning an Oktoberfest "with a twist". Lastly I'll note that Wisconsin Brewing Company has
inked a distribution deal
for the Chicago market. The distributor, Chicago Cluster, "blankets" the northern half of Illinois which means the brewery has a new market that is roughly double the size of its Wisconsin market. They seem to be on track of meeting their 250,000 barrel goal. Add in the Twin Cities and Wisconsin Brewing can become quite a regional brewer.
Tickets for the Great Taste of the Midwest go on sale 4 May at noon. There are some changes this year as detailed in
this blog post
. Ticket prices are up to $60, for starters. The Malt House and west side Vintage are new ticket outlets while the Tyranena tasting room is out.
I heard a few months ago that
River City Distributing
over in Watertown had bought the rights to various Polish beers and liquors from a Milwaukee area distributor and that the Madison area would see new brands on shelves. Neither store shelves nor the company's website reflect this. Has anyone else heard about deal? Hell, maybe there's an Okacim IPA to be had.
The winners of this year's
World Beer Cup
were announced earlier this month. Talk about groupthink – check out the categories with the most entries:
3rd) Wood- and Barrel-Aged Strong Beer
2nd) American-Style Pale Ale
And 1st place goes to...American Style India Pale Ale!
I am shocked. Shocked!
Wisconsin breweries brought home some medals:
Sprecher Shakparo – Bronze in Gluten-Free Beer
Sprecher Black Bavarian – Gold in German-Style Schwarzbier
Central Waters' Sixteen – Gold in Wood- and Barrel-Aged Strong Stout
Vintage McLovin – Silver in Irish-Style Red Ale
Oh, and Miller won a couple of awards too.
Some new and newish brews: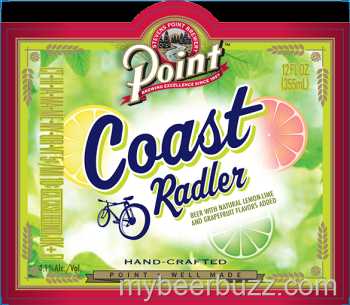 While it appears to be a flavored-enhanced beer instead of a true radler, it does come in at a sessionable 4.1% ABV, quite a bit lower than most American drinks labeled "radler" and "shandy".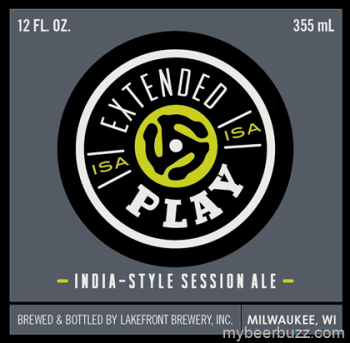 Don't tell Lew Bryson but Lakefront is coming out with a session IPA called Extended Play. And the latest entry in their My Turn series is Johnson, a DIPA.
Milwaukee Brewing Company has introduced Litta Bitta, a so-called white IPA, brewed with lemongrass. White IPAs, as far as I can tell, are very hoppy Belgian wit beers but the monikers "IPA" and "India" sell so everything has to be an IPA variation these days. Presumably we can look forward to an IPK – India Pale Kölsch – because, well, it has more hops and will sell like gangbusters.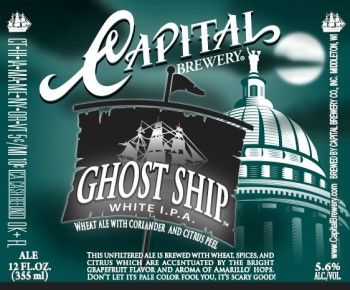 I mean, just ask Capital. Their fourth IPA is Ghost Ship, a white IPA. It has coriander, orange peel, and lots of hops. I tried one of these last weekend. It tasted like an imperial witbier at first with prominent coriander and orange bitterness and then the hops kicked in and ruined it. Craft brewers should stop adding more hops to everything and then calling it an India Pale XXXXX.
Also in Capital news, a Twitter
tweet
shows brewer Ashley Kinart whipping up a test batch of her new beer. ETA is June. Anyone know what kind of beer she has in mind?
The Hop Garden is a hop farm just south of Madison that has also gotten into the brewing game and this is the result. It's brewed by Page out at House of Brews and is available in stores now. Robin Shepard of
Isthmus
profiled
The Hop Garden and its owner Rich Joseph a couple months ago. This pale ale is his first brew and next comes an imperial IPA. Quelle surprise!
The latest from Schell's Noble Star line is North Country Brünette which the brewery describes as a "Märzen style Berliner Weisse". I've never heard of such a thing although the brewery claims it's a defunct style. (Where's Ron Pattinson when you need him?) My understanding is that it's a Berliner Weisse in style but with more of a Märzen grain bill. Sehr interessant!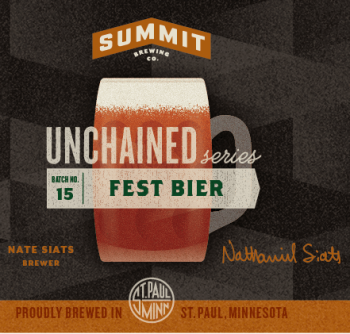 This beer is out and may very well be gone already. I had it on tap somewhere and it was excellent. Unchained is Summit's limited edition brew series and this was, sadly enough, the first lager in the series. The brewer describes it as being "modeled after a cross between an Oktoberfest bier and a Wiesn bier". Wiesn is, from what I can tell, a lighter take on the Oktoberfest. If you see this in stores, get it. Or just let me know about it and I'll buy it.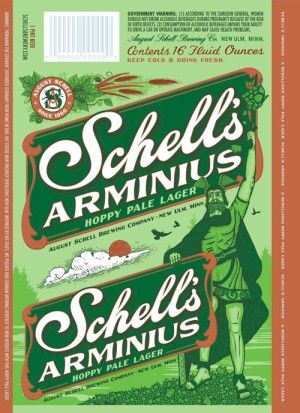 The latest hoppy brew from Schell. I believe this will be released next month. It's described as "Combining the hop profile of west-coast American IPA's with traditional German brewing techniques..." German, American, and French hops used in a double dry hopping. Sounds like a very hoppy pilsner. Schell gets credit from me for not calling it an India Pale Lager.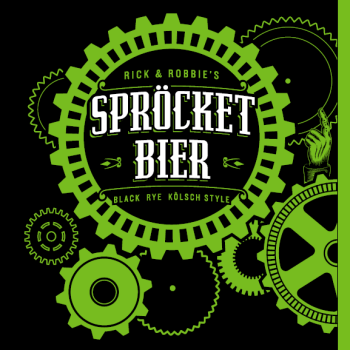 This is an entry in Stone's Spotlight Series which features brews resulting from a brewing competition held within the company. It's a rye Kölsch with black malt and extra hops. Intriguing. But was it lagered? Probably not. Too bad it's not being distributed in Wisconsin. However, there will be some in Illinois.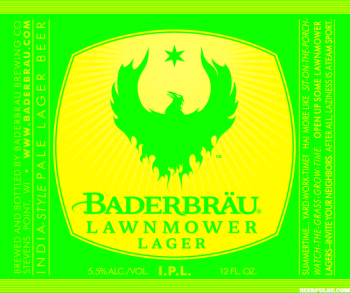 Speaking of Illinois, Chicago's Baderbräu has a new brew called Lawnmower Lager which is an IPL (quelle surprise!)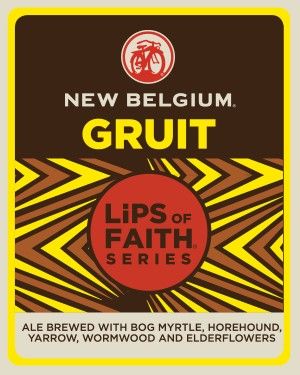 New Belgium's Lips of Faith series now has a gruit. I am looking forward to trying this stuff but haven't seen it around Madison.
On the New Glarus front, Yokel and Hometown Blonde are returning. Berliner Weisse is the next Thumbprint brew and we can look forward to bourbon barrel kriek, the IIPA, and Cranbic later in the year.
Homebrewer Jim Goronson is looking to open
The Parched Eagle Brewpub
in Middleton. I talked to Goronson about a month ago and he said he's looking at opening in November. I believe Goronson is looking at the Clownin' Around party supply store at 6301 University Avenue for his location.
Get ready for the Sunny Rest Beer Festival!
"Nudity required at the beer festival area". I love how they Photoshopped those beer glasses into the hands of those women. No doubt there will be dozens of young gals at the festival just like those on the poster.
Labels: Beer, Beer News, Madison Craft Beer Week