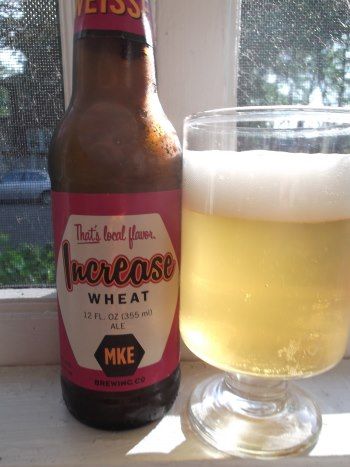 Last year at either a Craft Beer Week or a pre-Great Taste event the Milwaukee Brewing Company was pouring a new gooseberry Berliner Weisse. I thought it was rather tasty but was disappointed because it was available only in Milwaukee and, if I recall correctly, solely on draft. This year, however, the brew, christened
Increase Wheat
, has been bottled and given wider distribution.
The beer is named after Increase Lapham, the renowned 19th century naturalist and scientist who lived in Milwaukee. While his mailing address may have been in our state's largest city, Lapham surveyed the entirety of Wisconsin, reported on Native American effigy mounds, and catalogued the state's flora and fauna, including the gooseberry. (Lapham Elementary School here in Madison is named after him.)
Increase Wheat follows in the footsteps of several of Milwaukee Brewing Company's brews whose names refer to city landmarks and famous Milwaukeeans. It's nice to see them show pride in their city and expose people beyond John Gurda's reach to tidbits of the city's history. And in a time when many beer labels feature cartoon hop cone superheroes as well as scantily clad women, seeing Lapham and his level on the six pack holder is a refreshing change of pace.
I did my tasting on a fairly warm, sunny day which was perfect for the style and provided plenty of light for my snap which turned out not too shabbily.
Increase Wheat is a lovely yellow in color and is hazy. It is a wheat beer after all. As befits a "Champagne of the North", it's also very bubbly. My pour had a nice fluffy white head which stuck around. There was also a surfeit of bubbles making their way up the glass.
The aroma was marvelous with that characteristic lemony tartness complemented by gooseberry and grain. Milwaukee Brewing stayed true to style here and didn't brew a quad imperial Berliner Weisse. Increase weighs in at a typical 3.1% A.B.V. and the addition of rice helps give it a very light body. That citrusy/lemony sourness is right there leading the charge on your tongue but so the gooseberry which adds its own, slightly mellower and sweeter, tartness is not far behind. There's a goodly amount of sour here but it's not amped up so as to be threatening. You'll pucker, don't get me wrong, but swiftly adjust. Underneath it all is the wheat which gives a nice bready flavor here. In addition you can taste the carbonation which, along with the rice, adds a layer of dryness to it all.
Increase Wheat finishes as it began – tart. I found that the citrus tartness yielded to that of the gooseberries. There's not much hops to be had here. I suspect that the Tettnanger hops that are present just helped add to the overall dryness of the beer.
I thoroughly enjoy Increase Wheat. Here in the summer heat it proves to be exquisitely refreshing. It gets points from me for its dual tartness attack with a sharp, citrusy sour rubbing up against the gooseberry's blunter, sweeter contribution. The sour flavors are like paint with the light graininess providing the canvas. There's always that wheat for the tartness to prop itself upon and to provide a little contrast and texture too.
Junk food pairing: Berliner Weisse is a light style so you want something fairly easy going to pair with it. Try some Funyuns with your Increase Wheat. It's got that root vegetable thing going on for starters. The overall flavor won't overpower the beer while the beer will cut the salt. Plus salt & sour is simply a fantastic combination.
Labels: Beer, Berliner Weisse, Milwaukee Brewing Co