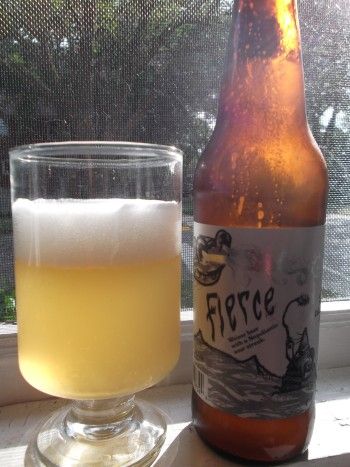 Off Color Brewing
is one of our brewing neighbors to the south. It began a couple years ago in Chicago and was founded by John Laffler, who had worked for Goose Island in the Bourbon County department, and Dave Bleitner, who left Two Brother Brewing to partner with Laffler. I have to admit that Off Color interested me from the get-go with their first two bottled beers being a gose and a kotbusser. Plus Laffler
told an interviewer
, "Everybody else makes IPA, so why would we?" and described IPAs as "a beer I don't care for". A man after my own heart.
I'd imagine that many BCS fans were expecting a prominent barrel aging program from Off Color considering Laffler's pedigree. Even though OC has done some barrel aging, they haven't staked their reputation on it. Instead Laffler and Bleitner have spent their time brewing a range of beers from lagers to ales, big beers to session brews, sours, obscure styles, and many points between. Fierce continues the brewery's tradition of making lesser-known German styles (and ales at that)and is a Berliner Weisse. Yeah, it's not obscure like the kotbusser but it's no pils either.
By looks alone Fierce seems true to style with its light straw color and hazy complexion from a hefty dose of wheat. Looking at the bottle one sees that the brew is 3.8% A.B.V. which is also traditional as the Berliner Weisse is not generally a very potent brew. One often hears that Napoleon and/or his troops dubbed the Berliner Weisse "The champagne of the North." This sounds wholly apocryphal to me but it is certainly true that the style should be bubbly and indeed my pour of Fierce resulted in a nice big white head. The beer was quite effervescent with lots of bubbles forming at the bottom of my glass and heading upwards.
I could smell the beer while the glass was still several inches from my nose as I fumbled with my camera and it smelled mighty fine. It had the characteristic lemon/citrus tartness that I've come to expect from the style. Also present was a bit of graininess plus a some sweetness with citrus/orange tones. Luckily it was a fairly warm out when I drank this brew because it was perfect for the day for it. That lemon tartness shone through but was tempered a bit by all the bubbles which added welcome dryness. The label notes that the tartness was achieved via kettle souring. This, I believe, means that
Lactobacillus is added prior to boiling and the addition of hops as opposed to letting the beer sit around and gather bacteria from the air or from a barrel. Fierce is rather sour but I found that its lemon aspect to be fairly subdued.
The beer's light body also made it quite refreshing on a summer day. It finished on the dry side owing to the generous carbonation and lingering tartness. Unfortunately, there was not much Schaumhaftvermoegen to be had as it all slid down the wall of the glass.
Fierce is a very tasty brew. It's light body, wonderful lemony tartness, and all those bubbles just make for an exceptionally refreshing drink during these warmer months. The beer boasts 3 I.B.U.s so hopheads need not apply as you'll never find the hops. They probably add to the overall dryness but I couldn't taste them. I also appreciate that it is a true session beer coming in at 3.8% A.B.V. as I can have a few of these after work and still be able to watch
Blake's 7
that same night and recall the plot in the morning.
Junk food pairing: Pair Fierce with lighter foods. You don't want something that's going to completely overshadow the beer. Try some thin pretzel sticks or those fancy new Lays West Coast Truffle Fries potato chips.
Labels: Beer, Berliner Weisse, Chicago, Off Color Brewing