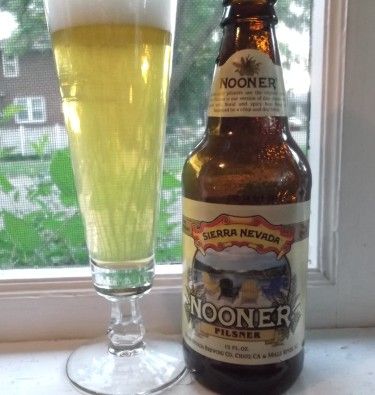 Sierra Nevada's
Nooner Pilsner
is a relatively new addition to the brewery's regular line-up. There was a Nooner Session IPA early in 2014 but that gave way to Nooner Pilsner later that same year.
Nooner is Sierra Nevada's take on the German pilsner. The German pils is, at least as far as American definitions go, a slightly more diminutive take on the style than its Bohemian cousin. It's lighter in color, in body with less hop bitterness and less malt sweetness. I have no doubt people who know more than I will take exception to this definition but I'm going with it.
The German documentary
Hopfen und Malz Verloren
showed how the big brewing conglomerates in Germany today have watered down the pils over the years. This combined with the fact that I don't know of any German pilsners that are shipped over here with enough celerity to be considered "fresh" on Madison store shelves leads me to concede that I may never have tasted the Platonic idea of a German pils. Here in Madison the Great Dane brewpubs have Verruckte Stadt ("Mad Town"), the Dane's take on the style. I personally like Verruckte Stadt but am not in a position to judge its authenticity.
With these caveats, here's my Nooner pablum.
It pours a slightly dark straw color. No chill haze this time around as Nooner was quite clear. I got about an inch of frothy white foam atop by beer and this head lasted for quite a while. German pilsners are apparently supposed to be quite bubbly and, indeed, Nooner had lots of bubbles making their way up.
This beer was pungent. I could smell it as I shuffled around with my camera trying to get a decent shot. And it smelled F-I-N-E fine. With the glass sitting on the sill it was the malt that I smelled first with its cracker-like scent. Putting the glass to my nose I caught a bit of malt sweetness that was like honey and graham cracker. The hops were also well represented on the nose with grassy notes undergirded by hints of citrus.
Nooner tasted much like it smelled. The cracker malt scent was more like baked bread to my tongue while that honey-like sweetness was more like bread dough. The sweetness was not very pronounced but it was easily discernible. The hops were at first herbal/grassy but there were distinct floral notes too. Looking at Sierra Nevada's page, it seems the floral flavors come from French Strisselspalt hops (and that citrus scent is likely to have come from the German Saphir hops.) I'm not sure that I've ever had a beer with Strisselspalt hops previously. Combined with Saphir, Tettnanger, and Perle, you get this wonderfully piquant mélange of botanical goodness with floral and grassy flavors at the fore of the hop brigade.
Being a lager, Nooner is clean tasting as you'd expect. There's also some dryness with a bit of bite from the carbonation. It finishes quite dry with a grassy/peppery bitterness that lingers for a goodly amount of time. My glass was left with some great Schaumhaftvermoegen all around.
I was going to write that I was impressed with Nooner but that's unfair as it implies a certain set of (low) expectations for the beer that I did not have. I have a lot of respect for Sierra Nevada and drank plenty of their Pale Ale back in the early 90s. Instead I will say that I thoroughly enjoyed Nooner and its mellifluous combination of flavors. The multifaceted hop profile stood out yet always let the malt have its due. With its gentle malts, medium-light body, and hops that showcase their flavors instead of overwhelming everything else, Nooner goes down easy. Mind you, at 5.2% A.B.V. it's not a session beer.
Junk food pairing: Pair Nooner with soft pretzels smothered in melted Velveeta cheese food product mixed with ghost pepper salsa.
Labels: Beer, Pilsner, Sierra Nevada