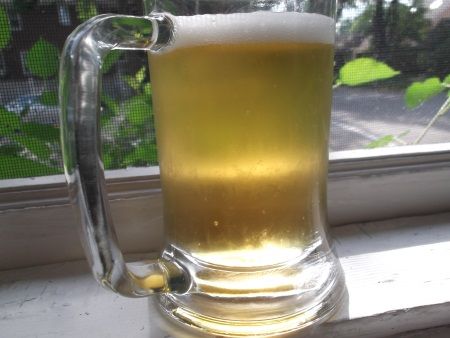 Wowzers! Zwei zwickels in one summer! First I had
Urban Chestnuts' version
and now I have Metropolitan's
Heliostat
, the brewery's summer seasonal available on draft only to maximize freshness. (Is New Glarus' Yokel a zwickel?)
When I wrote about Urban Chestnut's brew I admitted that I was flummoxed as to the difference between the zwickel and the kellerbier or if there was even a difference to be had. I was also unsure if they were distinct brewing styles or descriptors of serving processes, i.e. - are these beers simply unfiltered/unpasteurized helles lagers? Truth be known, I still don't know. But once more unto the breach…
Heliostat pours a brilliant straw in color – a pretty summer brew, to be sure. However, I was taken aback when I wiped the condensation from my glass to find that it was clear. Zwickel or kellerbier makes no difference – either is to be unfiltered. Where was my yeast and all the attendant B vitamins? Since the beer seems to be distributed in July, I can only imagine that the yeast had done some settling by early September. He who hesitates is lost, right?
On the nose Heliostat had that wonderful biscuit aroma that I expect from hell German biers as well as a grassy hop bouquet. Heliostat surprised me when tasting it as it had a very prominent taste of fresh grassy/floral hops. I wonder what type of hops was used here? Northern Brewer? Whatever they were, they were incredibly tasty with an almost fruity note to them. More floral tasting hops, please. In addition to the wonderful hoppiness the fantastic Teutonic malt aroma translated to the tongue with cracker and bread crust flavors. Carbonation added a hint of dryness while some doughy sweetness lurked underneath it all.
Heliostat finishes clean and dry with a lingering grassy/herbal hop bitterness. It also left some really nice Schaumhaftvermoegen on my glass.
What is best in beer life? To crush citrus hops. See IPAs driven before you. Hear the lamentations of the hop heads.
Despite the absence of the yeasty haze, Heliostat is a fine beer. Very fine indeed. It has those melanoidin-y/Maillard reaction-y bread crust malt flavors that I crave so dearly in no small measure. The icing on the cake are the fresh grassy and floral flavors from the hops which are the closest thing to the month of May (in a boreal clime) to be captured in a glass that I've ever experienced. Despite prominent hop flavor, Heliostat is not an especially bitter beer. The wonderful malt flavors are somewhat in the background but are by no means hidden behind a hoppy miasma. Heliostat has a medium-light body and is 5% A.B.V. which means that it's not a session beer. It is, however, almost preternaturally good at chasing away the summer heat, if only temporarily.
Heliostat is, to the best of my knowledge, still awaiting your growler at Whole Foods here in Madison.
Junk food pairing: Pair Heliostat with something spicy. I recommend Kettle Brands' Spicy Thai potato chips. However, Flamin Hot Cheetos will do if you can't get to a higher end purveyor of junk food.
Labels: Beer, Chicago, Metropolitan Brewing, Zwickel