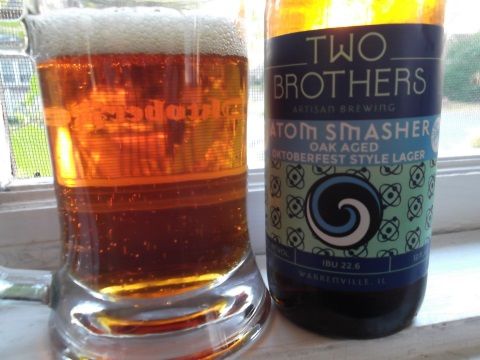 From the far side of the Cheddar Curtain comes
Atom Smasher
, an Oktoberfest from Two Brothers Brewing Company in Warrenville, Illinois, a western suburb of Chicago. The brewery opened in 1996 which makes it something of an elder statesman in the world of microbrews but it started distributing here in Wisconsin just this past summer. From my vantage point, Revolution, Half-Acre, and Pipeworks get the lion's share of hype for Chicago area breweries while Two Brothers keeps it steady as she goes without all the fuss.
Their autumnal seasonal is not simply another Oktoberfest. The brewery notes that it differs from its German counterparts by being aged in oak foudres which are large casks normally reserved for aging wine. Aging beer in oak casks or on oak staves or with discarded parts of Amish furniture is gaining in popularity. While not ubiquitous, a new oaked beer now appears on shelves seemingly every couple of months. Having recently had Karben4's Oaktober Ale, I was keen to find out how our neighbors to the south approached a silvan brew. Atom Smasher is also distinguished from its counterparts in Munich by its rather high alcohol content, coming in at 7.7% A.B.V.
Atom Smasher was a lovely clear amber. My pour produced a moderately sized head – maybe a quarter inch – that was off white and frothy. It lasted…a moderate amount of time. It neither disappeared posthaste nor stuck around until I got halfway through the beer.
The arboreal aroma was quite distinctive and could be smelled even with the glass being at some distance from my nose. There was no mistaking this for your typical Oktoberfest. The style is malt-centric and the expected grainy scents were prominent. There was biscuit and a sweeter, caramel smell too. In addition, I caught fruity, berry-like notes.
Just as with the aroma, oak was the first thing I tasted. This was not some subtle woody notes in the background – it was right up front. At first I found it to be a bit much but the oakiness mellowed upon subsequent sips and the clean malt flavors came through. I was very pleased to taste some nice, soft bready flavors along with those of toast/roasted grain. Considering the beer's color and aroma, I was very surprised at the lack of sweetness in the taste. There was just a hint of it and I suspect that the carbonation and woody flavors dulled the sweetness. Two Brothers claims there are 22.6 I.B.U.s in Atom Smasher but I couldn't taste that much. I tasted some herbal hops, but only just.
Atom Smasher finished dry and oaky with a firm bit of spicy hoppiness that lingered. The bite from the carbonation was also noticeable. Sadly, there was only the slightest trace of Schaumhaftvermoegen in my glass.
I'm still pretty green when it comes to oak aged beers. I've had one that was homebrewed a few years ago and now I am finding slowly consuming its commercial cousins. Atom Smasher is less oaky than Karben4's Oaktober Ale but there's nothing subtle about the woody flavors here. Atom Smasher is also a lager so it has a clean flavor that allows the grainy flavors to come through. I enjoyed the bread and toasty malt flavors as well as the paucity of sweetness. I also liked the oak flavor here although I found it pushing the limits of my tolerance for the flavor. Any more would have been drinkable, certainly, but my limit would have been one. The hoppy finish helped ease the abundant oak.
If Atom Smasher has anything that would impede multiple servings being consumed in a session it is the 7.7% A.B.V. which betrays its smooth, medium-light body. This is an easy-drinking beer but one can easily forget that it doesn't lack for booze.
Junk food pairing: As I've been doing for the past couple weeks with other Oktoberfests, I will urge you to pair Atom Smasher with deep fried cheese curds. The salt will bring not only the curds but also the malt in your beer alive. ALIVE!
Labels: Chicago, Oktoberfest, Two Brothers Brewing