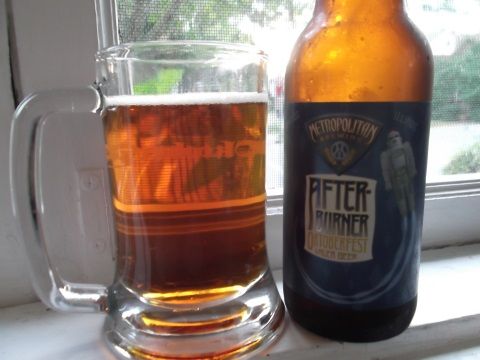 Chicago's
Metropolitan Brewing
began distributing here in Wisconsin this past spring which means I can enjoy their beers more often instead of having to wait for trips down south. Co-founders Tracy and Doug Hurst are both from Wisconsin: she from the Milwaukee suburb of Greenfield and he from right here in Madison. Doug attended the UW and took the infamous Plants and Man course where you can brew beer in lieu of writing a paper. A roommate of mine in college took this class and brewing the beer became a project involving everyone in the house and my first involvement in the production of the sweet, sweet nectar.
Metropolitan opened in 2008 and has been forging its own path ever since. Perhaps because of the Hurst's Wisconsin upbringing (and hence exposure to breweries such as Capital and Sprecher) as well as the time Doug spent in Germany learning his trade, the fateful decision was made to brew lagers with no concessions to the preternatural preoccupation with hops. I met Tracy earlier this year when she was in town introducing drinkers to her beer and instead of boasting about a brotastic cascade of citrus hop flavors, she emphasized the comity between malt and hops.
The brewery currently has three annuals along with six seasonals.
Afterburner
is Metro's Oktoberfest that is released in September (instead of July). I'm not sure when Metropolitan began brewing it but I do believe that it was draught-only early in its life and was first bottled in 2013.
Afterburner is a beauty of a beer, eh? It is a lovely light copper and clear. My pour produced about ¼" of loose, off white head that dissipated fairly quickly. Either that or I spent a long time trying to get a decent photograph. Surprising to me was that there were only a few stray bubbles going up. This beer appeared almost still. The aroma was full of malty goodness. There were biscuity notes but also some sweeter ones that were akin to figs and a hint of caramel too. My nose also caught just a hint of spicy hops.
The beer's medium body was replete with a great combination of malt flavors. As was expected, there were bread/biscuit tastes along with some stonefruity sweetness. As Afterburner's copper color let on, there was also a welcome roasted grain flavor that was like well-done toast. It had a bit of nuttiness to it as well. Lurking underneath the malty mélange was a bit of peppery hop in addition to a little dry bite from the carbonation.
The clean malts gave way at the finish to a moderate dryness from both the carbonation and some mild spicy/peppery hop bitterness. My glass was left with just a little Schaumhaftvermoegen towards the top.
Afterburner is perhaps the very model of a modern Märzen beer. The clean maltiness is spearheaded by bread and biscuit flavors but bolstered by a touch of sweetness and the nutty taste of roasted grain. This winning combination is kept together by the hops which never seek to overpower, only to complement. I can't find any info on the ingredients so I don't know what kinds of hops were used nor if German malts are in the recipe. Afterburner is 6.1% A.B.V. so it is perfect for chilly October evenings.
Junk food pairing: Deep-fried cheese curds. I cannot even begin to describe the depths of malt gluttony you will wallow in when eating deep-fried cheese curds with your Afterburner.
Labels: Beer, Chicago, Märzen, Metropolitan Brewing, Oktoberfest