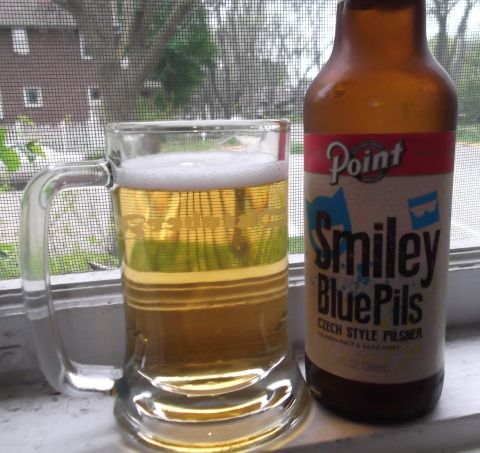 It doesn't seem that long ago to me that the Stevens Point Brewery, a.k.a. – Point, was basically just its iconic blue-labeled Point Especial Lager that Mike Royko famously declared the best beer in America but little else beyond this one brew. Sure, they had Point Bock and probably other beers that have been lost in the mists of time, but Point had the reputation in my mind of being a regional brewery skating by on its American pilsner and contract brewing/energy drink production as the microbrewing revolution left it in the dust.
Now, I am not claiming that my perception mirrors reality in all respects. In fact, that is unlikely. However, Point has done quite a lot in the last 10 years to transmogrify their image from that of a regional brewer that survived Prohibition and consolidation doing what is has always done into that of a craft brewery eager to destroy your tongue with hops just as much as the next guy. And to this end they have a variety pack of IPAs in addition to its annual Beyond the Pale IPA; it also has a line of high octane brews – the Whole Hog series – which offers big, bold flavors in addition to higher A.B.V.s; the likes of St. Benedict's Winter Ale and Drop Dead Blonde were introduced and remain in the line-up while
Three Kings
, Kölsch-style brew, came and went; more recently a radler and citrus IPA have been introduced.
Point is certainly not afraid to branch out and try new things. Are the folks up north just throwing stuff at the wall to see what sticks? Or are they really paying attention to and embracing trends? I suppose it's some of both. Regardless, I was rather surprised when they introduced
Smiley Blue Pils
as a year-round brew last summer. It's not and IPA nor sour nor barrel-aged. Then again, pilsners are something of a trend in craft brewing so perhaps I should not have been surprised at all.
Smiley Blue Pils is billed as being a Czech-style pilsener and seeing the requisite Saaz hops listed on the label boded well. It poured a lovely straw color and was quite clear. Again, my pilsner glasses are all packed away so I'm stuck with a mug for a while. Getting back to the piwo, I only got a small white head but it was quite creamy. There were some bubbles in the glass heading on up but I'd expect more from a pils.
The aroma had a fairly prominent fruit scent to it which was difficult to place. It wasn't doughy or like honey so I don't think it came from the malt. Instead it was light and Kölsch-like with a delicate almost berry quality to it. This was highly unexpected though not necessarily unwelcome. A more familiar aroma of grass was also present as was a little bit of cracker.
Whatever that fruity scent was, I didn't get any of it on my tongue. Smiley Blue had a really nice light biscuity malt flavor from pilsner malt that had just a touch of sweetness but was otherwise nice and clean tasting. The grains kindly propped up some big herbal and grassy hop flavors which, along with a little bite from the carbonation, made for a rather dry taste.
The dryness increased on the finish as the Saaz's renowned peppery flavor swelled giving off a big, firm bitterness. There wasn't much lacing to speak of as the loose foam slid down into the piwo.
I was going to write something like "Smiley Blue is a surprisingly tasty pils" but realized that this sounded a bit too close to a backhanded compliment. Truth is that I really liked this beer. The gentle malt flavors were doled out perfectly here with a light touch allowing the hops their time in the spotlight. While I tend to think of Czech pilseners as having more hop flavor and bitterness than Smiley Blue, this is by no means a watered down version of the venerable style. Those Saaz really do kick in on the finish.
Smiley Blue is 4.5% A.B.V. which I think is on the low end for a Czech-style pilsener. But this matches the brew's motif of toning down an "authentic" piwo and I say this not being a Czech beer expert. Point seems to have taken a traditional approach overall but pulled their beer's peaks back out of the red. It's never as spicy or dry as the Czech imports I've had. Still, it's good Squishy.
Junk food pairing: You can't go wrong with a cold Smiley Blue and some pickled sausage with a handful of Cheez-It Sriracha Snack Mix.
Labels: Beer, Pilsner, Stevens Point Brewery