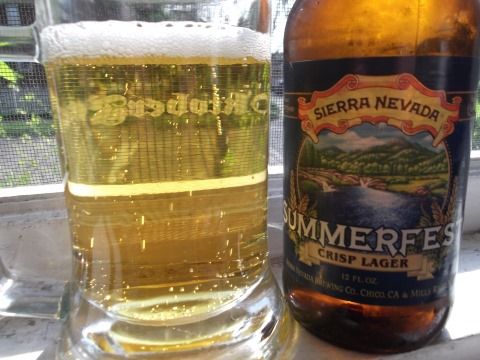 Since
reintroducing myself
to Sierra Nevada's beers last fall, I have been mightily impressed. I probably blathered on about this previously but it had been a long time since I'd tasted one of their brews. Their Pale Ale was a fixture of my formative microbrew years in the first half of the 1990s and it has
been argued
that it is the progenitor of today's IPA that all the kids go gaga for. Since that time the brewery has grown to become a macro-micro – the third largest "craft" brewery in the United States.
I'm not familiar with how well Sierra Nevada has adapted to neither the tropical fruit IPA nor the barrel aging trends as I've stuck with their renditions of German styles. And I can tell you that they've done a fantastic job whether it's sticking with tradition, tweaking it a little, or turning the
Reinheitsgebot
on its head with abundant New World ingredients.
The piwo at hand,
Summerfest
is, quite unsurprisingly, the brewery's summer seasonal and their take on the Czech pilsner – a "Czech-style lager", as they fancy it. I'm not sure how long this has been Sierra Nevada's summer seasonal but I read that it was first brewed back in 1992, which is ancient in microbrewing terms.
I was disappointed not to have my pilsner glasses at hand when I instead poured my Summerfest into my mini-Bierkrug, the only glass drinking vessel I have that remains unpacked aside from shaker pints. This piwo deserved the tall pils glass to showcase its lovey burnished straw color which was crystal clear. The pils glass would have had a nice, loose white head up top and a goodly number of bubbles moving up the height of it. If only the foam would have stuck around a bit longer.
Summerfest's aroma was essentially the antithesis of trendy tropical fruit IPAs with it's pronounced herbal and black pepper hoppiness, with an emphasis on the latter which I presume come from liberal use of the traditional Czech Saaz hops. There was also a hint of citrus too. All of this hoppy goodness was coupled with a great light crackery pale malt scent.
That cracker malt scent widened into a flaky biscuit flavor that had a slight doughy sweetness. For their part, the hops retained that big pepper character and it became more grassy and took on a greener, more leafy spiciness with a fair amount of bitterness to boot. This was perhaps the Spalter Select comingling with their Czech cousins. Overall Summerfest had a nice, clean flavor that really showcased the hops well.
For the finish, the malt did a disappearing act leaving the hops to work their spicy, peppery magic. They left a Saaz burn on my tongue and really increased the dryness. There was no lacing to be had.
Sierra Nevada did not disappoint with Summerfest – not that I expected them to, mind you. It was crisp and spicy and just full of hoppy zestiness. The pepper flavor here was unlike any that I've tasted. It was very distinct and pungent with a taste almost like Grains of Paradise. And it complemented the
biscuity pale malt taste perfectly. With its light body and bold hops, Summerfest can no doubt cut through the summer heat. It is 5% A.B.V.
Junk food pairing: Grab a bag of salt and pepper potato chips to go with your Summerfest. The salt will replace that which you lost sweating in the heat while the pepper shall complement all the spicy hops in the beer.
Labels: Beer, Pilsner, Sierra Nevada