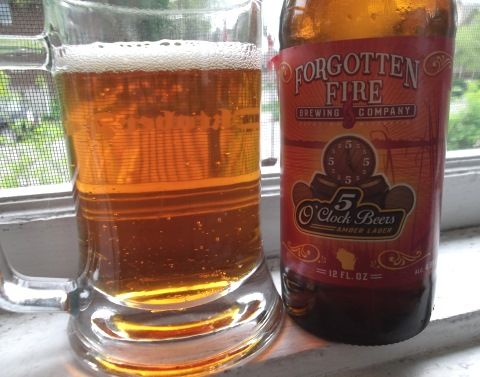 The Great Peshtigo Fire consumed 1.2 million acres of forest in northeastern Wisconsin, ravaging a sizable chunk of Marinette County as well as parts of Oconto and Brown counties and it extended into the Upper Peninsula. Estimates of lives lost vary between 1,200 to 2,500 people. The town of Peshtigo was destroyed as were several other communities. This massive fire would certainly be more well-known today if it hadn't begun on 8 October 1871, the same day as the Great Chicago Fire which destroyed a large portion of that city and slandered one Mrs. O'Leary and her cow forever.
But this forgotten fire has given a name to one of Wisconsin's newest breweries,
Forgotten Fire Brewing Company
. The brewery's website describes the company as a partnership between Lindsay & Joe Callow, proprietors of Forgotten Fire Winery in Marinette (just east of Peshtigo), and Point Brewery. The Callows hope to open a brewery at the site of the winery at some point in the future "if laws allow".
Forgotten Fire's beers seem to have arrived in Madison with little fanfare. I first noticed them on store shelves last month where I spied Hopstinguisher, a session IPA (5%?!) and
5 O'Clock Beers
, an amber lager. They also apparently make Cherry Radler, but I have yet to see that in Madison. I recently tried the lager. Of course. 5 O'Clock Beers get its name from the practice of employees at the winery who switch from wine to beer at 5 o'clock on Fridays.
The beer pours a lovely clear amber. I was only able to produce a small head which was light tan and loose. While it dissipated rather quickly there was a fair number of bubbles inside my glass. Not a bad start to the proceedings.
The beer's aroma was definitely on the sweet side of things with prominent caramel and apricot scents. Lurking in the background was a little grassy hop.
After having had an overly carbonated beer last week I am still quite sensitive to carbonation. And I am pleased to be able to report that it was well- but not maxi- carbonated. There was a little fizziness and some attendant dryness but no real bite. 5 O'Clock is medium-light bodied and had a nice roasted grain flavor and all that sweetness in the aroma came through as just a little toffee here. As with the aroma, there were some hop flavor lurking in the background but it was fairly spicy instead of grassy.
A tad of malty sweetness came through for the finish and lingered a short time before the hops made their final appearance with a fine but mild mix of straw and black pepper. There was no lacing to be had.
I really liked the hops in 5 O'Clock Beers. It begins as a grassy aroma and evolves into a tasty bit of black pepper on the finish. It's too bad that the hops are so mild. It is also a shame that the malt flavors are wort-like and the beer's taste is a bit thin. The hops are weak and not given much to work with to try and tie things together and so the overall effect is clean but lacking crispness and a firm malt foundation.
Bad bottle? Perhaps.
Forgotten Fire's initial offerings aren't big brews and 5 O'Clock is an easy-going 4.8% A.B.V. I'd be thrilled to have an everyday beer like this at my disposal. Despite the bonhomie of the beer and its appeal to Wisconsin history, Forgotten Fire are going to have to do quite a bit better than this to displace Sprecher and Capital in the hearts and livers of Wisconsin amber lager drinkers like myself.
Junk food pairing: I say keep the igneous theme going and let your 5 O'Clock Beers put out the flames from a bag of Blair's Death Rain Habanero Pepper potato chips.
Labels: Amber lager, Beer, Forgotten Fire Brewing Company