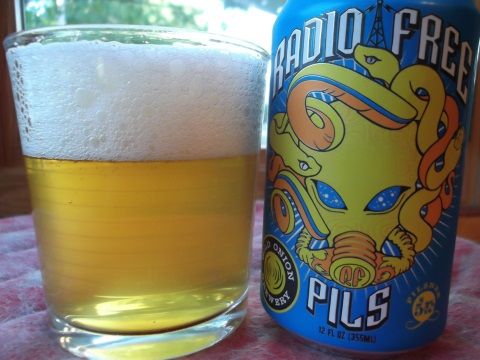 Wild Onion's Radio Free Pils is so new that the brewery's website doesn't even have a page dedicated to it.
Wild Onion Brewery
, on the other hand, is celebrating its 20th anniversary this year. Although its name refers to the city of Chicago, "Chicago" being a corruption of the Potawatomi phrase for wild onions, the brewery is located firmly out in the far northwest suburb/exurb of Lake Barrington.
I don't know that I've ever had a Wild Onion brew before but I have a feeling that I have. Somewhere, somehow. But I feel confident in saying that I've never bought any of their bottles or cans before. This is likely due to me seeing their eyepahs and stouts on the shelf. No offense to Wild Onion but why go to Chicagoland to get those beers when I can get
5 Rabbit's
Latin American-inspired cervezas,
Off Color's
off kilter brews,
Metropolitan's
wonderful lagers, and the only
rye Märzen
I've ever encountered.
Last month I just happened to be at a Chicagoland liquor store (ahem) and stumbled upon Wild Onion's Radio Free Pils. I wasn't sure what the medusa with scuba mask artwork meant, but it looked pretty cool and certainly caught my eye. And it was a pils instead of an eyepah. I will admit, though, that I was a bit hesitant and only bought a single can. The reasons were twofold. First that the Wild Onion is primarily an ale brewery, from what I can tell, and brewing a pils seemed like a bit of bandwagon jumping to me, truth be told. And secondly there is a trend, however small, of American brewers releasing a pils when its actually an American Pils Nouveau. I am expecting Noble hop flavor and instead get an orchard's worth of trendy tropical fruit.
Radio Free poured a dark straw color and was, oddly enough, slightly hazy. (Was this a newfangled New England style pils?) I got a big, white, creamy head that, sadly, disappeared at a good clip. There were bubbles aplenty inside which made me wish I had a pilsner glass at the ready. Except for the haze, Radio Free seemed to be quite pilsnery – in appearance, anyway.
Upon smelling the beer a wave of relief washed over me. I could not detect any fruit. Well, no fruity hops, that is. Instead I was treated to a rush of fresh grass. It was wonderful. There was also a touch of black pepper as well as some biscuit. Oh, and some sweetish orange which didn't come across as hoppy to me but rather like an olfactory illusion manufactured by some malt sweetness and the Noble hops. If that makes any sense.
The taste had a solid biscuity backbone that came with a bit of dough. That great grassy hop aroma came through here too and was just fresh and summery and oh so good. A mild citrus hoppiness was present too but this was the dry Noble kind, not the juicy American variety. Surprisingly, the beer wasn't as fizzy as I thought it would be, treating my tongue to a fairly moderate amount of carbonation.
Malt fades quickly on the finish leaving the hops to their own devices. In this case they brought a fairly substantial spicy-black pepper flavor along with a not insignificant amount of bitterness making for a dry denouement. A few large patches of foam lined my glass along with a cornucopia of spots.
Despite being on the singles shelf where beer, in the words of Off Color's John Laffler, go to die, my can of Radio Free Pils tasted fresh. It seems that the brew was introduced in June/July so it didn't have enough time to go south. And that's a good thing because the big – almost zesty – smell and taste of fresh grass from the hops here was superb. We're talking Platonic ideal of pils goodness. Even better, this taste of flora went to the cotillion with spicier tasting hops and some dry, citrus flavor and did a little dance and made a little love in a lupulin ménage à trois.
I also appreciated that the malt, although not big, made its presence known with a fine biscuit flavor tinged with sweetness. The beer's body was light but fuller than other pilsners that have a smaller malt component. Radio Free Pils is 5.2% A.B.V. and can be a fine thirst quencher on a hot day but, really, this is a sippin' pils. Don't chug it to beat the heat; savor every sip instead.
Junk food pairing: Radio Free is not a delicate little flower but nor is it a big, burly brew. Try some thick potato chips with generous dollops of dip. Onion is fine but don't shy away from bacon & horseradish.