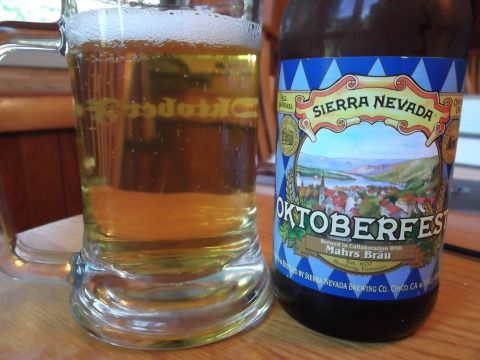 You know it's July when American Oktoberfests hit store shelves. I managed to refrain from buying any until late August this year because, well, that's just how it should be.
Pretty much everyone and their mother brews an Oktoberfest here in Wisconsin these days. Lake Louie brewed their first one this year. Ale Asylum decided to finally bottle a lager this year and that lager was an Oktoberfest,
Oktillion
. It's surely the most resilient vestige of the state's German brewing heritage which has laregely been cast to the wayside in large measure to accommodate hoppier eyepahs and the style's attendant off-shoots. Breweries that specialize in ales even find the time to do a little lagering during the summer.
Surprisingly, to me anyway, is that Wisconsin brewers have largely avoided tinkering with the style. Milwaukee Brewing Company's
Hoptoberfest
, an aggressively hoppy take on the style, springs to mind as an exception. But I have yet to see Oktoberfests blitzkrieged by brettanomyces or assaulted by Citra. I am sure that there are more modifications of the styles out there than just Milwaukee Brewing's, but I don't see them. Perhaps they're at taprooms and brewpubs. Or I am oblivious to them.
My guess is that my intro to the Oktoberfest was
Capital's
. In fact, I think Capital tutored me in seasonal beers. And I recall when New Glarus introduced their Oktoberfest,
Staghorn
. It was love at first sip.
While those two beers will always be part of my late summer/autumnal drinking ritual and have special places in my heart and liver, I have to be honest and say that the Oktoberfest that I was looking forward most anxiously was
Sierra Nevada's
.
Last year the venerable California outfit decided to "explor[e] the roots of Germany's famous Oktoberfest beers" by partnering with a different German brewery to produce a version of the style. The first collaboration was with Brauhaus Riegele and the
resulting bier
was simply fantastic. This year Sierra Nevada teamed with Bamberg's
Mahrs Bräu
.
Oktoberfest
pours a medium yellow/light gold color which puts it in the
wiesn
or pale Märzen camp. From my experience, Wisconsin Oktoberfests are amber. But, from what I've read, the paler variety is what you will be served in Munich at the Oktoberfest. It was clear which made for a very pretty sight as did the loose, white head that formed atop my bier. The foam went away fairly quickly. However, there was a goodly amount of bubbles inside.
Taking my first sniff of the bier reminded me why it only took one brew last year to make it eagerly anticipated this year: bread. That lovely bread smell. There was a little honeyed sweetness, but not much. This year Sierra Nevada is advertising the use of a rare variety of Belgian hops called Record. As far as I know, this was my first encounter with them. My nose caught some grassy hoppiness but I am not sure if that was Record or not.
Just like last year's Oktoberfest, the new iteration was like a bakery in a bottle, steeped in Maillard toastiness. Simply wonderful. It was complemented by some less toasty and more yeasty bread flavor, a touch of doughy sweetness, and a very healthy dose of hops which were both spicy and herbal tasting. Was this the Record hops?
The plethora of malty mannas faded on the finish allowing a zesty, spicier hop taste to take center stage where it offered up a firm bitterness and dryness. Alas,
Schaumhaftvermoegen
was absent.
Ausgezeichnet! Sierra Nevada and Mahrs Bräu have created a great Oktoberfest full of the Maillard toastiness that I love. But they've also tweaked tradition by giving the bier a heftier hoppiness. Not content with that, the two breweries made sure that the hops would be of a different character at each step: grassy to my nose, herbal/spicy to the taste, and then an almost citrusy Saaz flavor at the end. Just marvelous.
The bier is 6% A.B.V. and has a light-medium body which will go very well over the next few days as temperature cools down into the low 70s.
Junk food pairing: Pair this year's Sierra Nevada-Mahrs Bräu Oktoberfest with pork rinds or some Cheetos White Cheddar Puffs. To satisfy a sweet tooth, heat up a Pillsbury Apple Toaster Strudel.
Labels: Beer, Mahrs Bräu, Märzen, Oktoberfest, Sierra Nevada