Unless something goes horribly wrong, this will be my final Festbier review of the year, the omega of Märzen analyses, if you will. Yes, Oktoberfest inspections are on the way out.
Because this year's crop of Wisconsin Oktoberfests was, for the most part, cringeworthy – the ones I tasted, anyway – I am hoping to end on a high note. And so I look to foreign brewers to get the job done right.
To begin I am going to heed Horace Greeley's imperative and taste
Märzen
by Denver's Prost Brewing.
Considering that Prost brews German bier styles exclusively, one would think that their Oktoberfest would be preternaturally tasty. So far, I've found
their biers
to range from mediocre to very good. So, while perhaps not a shoo-in, I certainly expected this to be a really good bier.
Things began well enough as I discovered its golden hue, tinged – but only just – with amber. Certainly this would not be laced with caramel/crystal malt sweetness. Clear as day, I could see surfeit of bubbles inside. Alas, they made their way upwards to an imaginary head. D'oh!
The aroma was light toffee, bread, and some apricot. It was sweeter than I expected, yet it was not cloying with the bready scent more than holding its own.
If I had any worries about the aroma being a portent of things to come in the taste, I needn't have had them. Märzen came replete with Maillardy goodness, full of toasty bread taste. Just wonderful. It also had that nutty taste I first encountered with
Victory Festbier
, though less strong. Other less toasty bread flavors were joined by some great hops that were grassy tasting at first but took on a really nice flavor upon closer inspection. I did, however, find it a bit over-carbonated. Witness all those bubbles I saw.
Those hops took on some spiciness at the finish and added moderate doses of bitterness and dryness to drive away the last of the malty residue. Of
Schaumhaftvermoegen
there was none.
While it suffered from a touch too much carbonation and was thusly was a little acidic, this was a very good brew. It was nice'n'Maillardy and had very little sweetness. I really enjoyed the hops, especially the floral taste.
We now leave the Rocky Mountains and head to the bayous of Louisiana and
Abita Brewing
. Well, I am not sure that Covington is even near a boyou, truth be told. Still, the brewery likes to trade on bayou imagery, especially gators. Perhaps only gators. I don't recall ever seeing an airboat on one of their bottles.
One thing I don't associate with the creole culture in Louisiana is a German influence. I think of Native American, French, African, and Spanish but not German. But there was apparently a
"German Coast"
in the state's early days on the east bank of the Mississippi River. That Wikipedia article also notes, "During World War I, in a reaction against Germany as the enemy, the Louisiana state legislature passed Act 114: it prohibited all expressions of German culture and heritage, especially the printed or spoken use of the German language, in the state." Yikes!
So let's taste Abita's expression of German culture and heritage.
I begin by noting the bier's medium gold color. A good beginning as this bodes well for minimal sweetness. Clear? Check. For a change of pace I managed to pour a big head. The foam was white and loose and lasted 30 seconds or so. This was an effervescent bier with lots of bubbles inside.
Rather than caramel sweetness, my nose first caught the scent of some fresh grassy hops. Unexpected though not unwelcome. That caramel was there but tucked away in the back while a more bready smell was at the fore.
The same held with the taste. A rich bread/biscuit flavor held sway and relegated a touch of malt sweetness to a supporting role. The hops were firm but not overpowering and they had a tasty combination of grass and spiciness. While the Prost had a bit too much carbonation, here it was just right.
Those hops were let loose on the finish after the malt faded or was, perhaps, pushed out. They were pretty spicy – nearing minty territory – and made for a rather dry denouement, though not especially bitter. The
Schaumhaftvermoegen
was great with webbing everywhere inside my glass.
As someone who hadn't had many Abita beers prior to this one and with the ones I did have being all fruited beers, I wasn't really sure what to expect from them doing a traditional lager. I am happy to say that this was a really good Oktoberfest. It had a nice bread flavor, though not of the Maillard toasty variety, but tasty nonetheless. And the sweetness was minimized. Those spicy hops on the finish were a pleasant surprise too. I find that spicy hops clash with sweeter malts in an unpleasant way but here, with bready flavors, they were a wonderful complement.
Junk food pairing: Pair Abita Oktoberfest with a bag of Snyder's Peanut Butter filled Pretzel Pieces.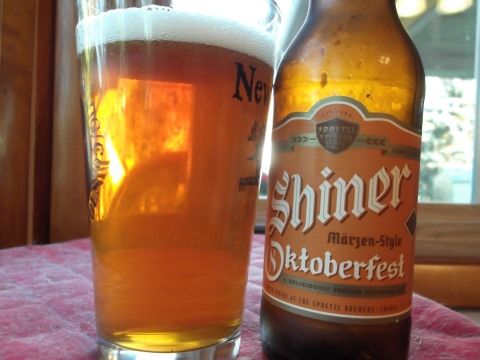 Watching
Hell or High Water
I noticed that Jeff Bridges character drank Shiner Bock in almost, if not every, scene in which he drinks a beer. Now I don't know if this was because the Shiner folks paid the filmmakers or if the filmmakers simply like the beer. Or perhaps a preference for craft beer is supposed to be a commentary on the otherwise gruff old-timer with a penchant for racial humor of a decidedly non-politically correct type. I suppose I was expecting to see cans of Lone Star.
I don't think I've ever reviewed a Shiner beer. Shiner is a brand brewed in the town of the same name in Texas between San Antonio and Houston. And it is brewed by the Spoetzl Brewery, named after Kosmos Spoetzl, a German immigrant and the brewery's first brewmaster and owner.
A fair number of German immigrants settled in Texas although I tend to associate the state with things like oil, steak, chili, and Tejano music. Then again, Lone Star was founded by at least one German immigrant. We're talking lagers here, a technique surely brought to Texas by Germans. And so while surely a minority culture, that of German immigrants left its mark.
Ooh.
Shiner Oktoberfest
pours an amber hue. We could be headed for caramel sweetness. The bier's clarity revealed a generous amount of bubbles floating upwards to a sizable loose, white head. Sweet or not, it sure looked pretty.
Yep. Sweet caramel(ine) was out front on the nose trailed by some bread and a nice herbal hoppiness. Things aren't going too well here.
While I could certainly taste caramel, I was relieved to also taste bread and roasted grains to keep the sweetness from dominating. There was a nice fizziness to it as well as some very tasty hops that were grassy and spicy.
A little of the sweetness lingered towards the end as the hops became stronger and took on some black pepper taste. The finale was quite dry and bitter, eventually washing away all trace of malt.
Schaumhaftvermoegen
was limited to a smattering of foamy spots with a few small patches.
All things considered, I quite liked Shiner's Oktoberfest. It ended up not being quite as sweet as the color would have you believe. Plus the bread and grain flavors were quite tasty even if they weren't toasty in a Maillard kind of way. The bier finished more like a Bohemian pilsener than a Märzen but the sprightly hop taste made for a nice, bracing libatious experience.
Junk food pairing: Shiner Oktoberfest pairs well with sharp cheddar cheese food products like Velveeta and Easy Cheese so dip a soft pretzel in some melted Velveeta dip or pointed your aerosol can in its direction.
Labels: Abita Brewing Company, Beer, Märzen, Oktoberfest, Prost Brewing Company, Spoetzl Brewery