Sunday was the day for doing the tourist thing. I arose and ate the Long John I bought at Strange Doughnuts which was quite tasty. We headed downtown with our first destination being the
Old Courthouse
.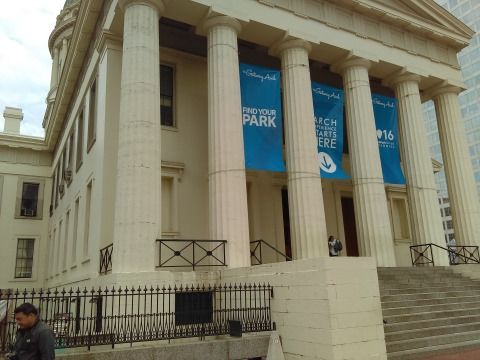 It had a really hoopy dome.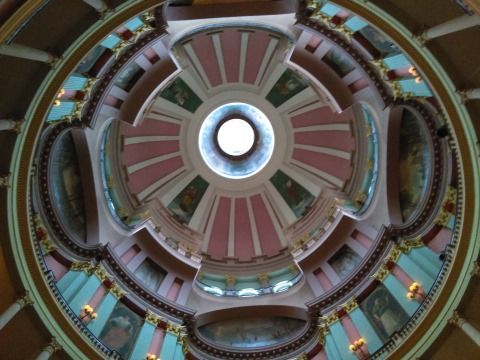 No longer used to mete out justice, it is now a museum free and open to the public. I had no idea of the building's storied history which included these folks: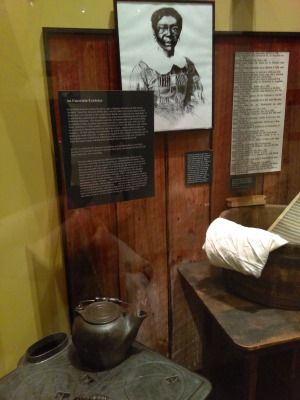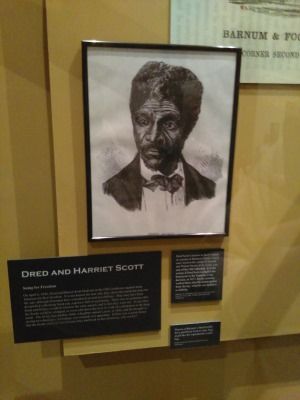 That would be Dred and Harriet Scott who filed separate lawsuits in their collective bid for freedom and to simply be treated as people as opposed to mere human chattel.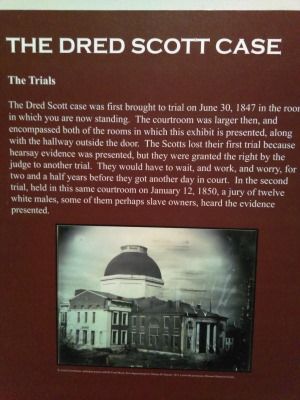 It was rather humbling and awe-inspiring to be in the very room that the Scotts were as they began their legal quest.
In addition to that hallowed room, there were a couple other courtrooms preserved in their 19th century glory such as this one.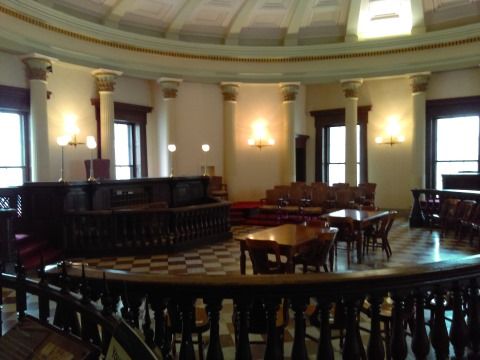 Aside from legal history, the museum also had exhibits depicting the history of St. Louis and its role as the Gateway to the West. The area is rich in Native American history with the site of the Mississippian metropolis,
Cahokia
, right across the river. Then came explorers, trappers, and traders. I have to say that the depiction of a couple trappers hunched over a fire in a small shelter during the winter made me quite thankful for modern amenities.
The city was the terminal stop for aspiring pioneers who would take on food, wagons, supplies, and whatever else they required before heeding Horace Greeley's plea. And so one exhibit had a wagon and all the kit used by those seeking their fortune out west. Again, I was thankful for being a denizen of the 21st century.
Outside was a statue of the Scotts.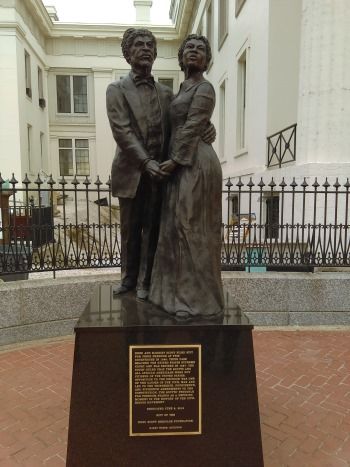 And across the street was
The Arch
. Unfortunately it was undergoing renovations both to the museum underneath and to area around the base so we couldn't get particularly close.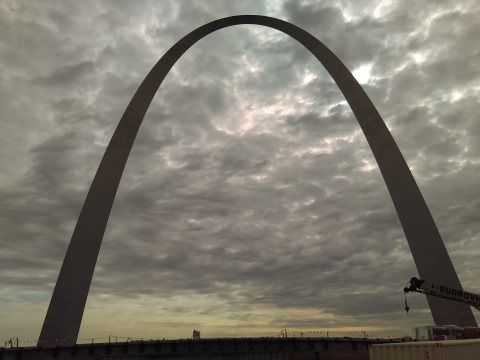 It was truly a spectacle to behold and warrants a return trip to take the tram ride up to the top. There was a tram in the Courthouse and either the Arch's design didn't warrant anything larger or people were considerably smaller back in the 1960s.
Since Madison does a poor job of opening its lakefronts to the public, I was curious as to what St. Louis did with its riverfront but the construction prevented me from checking that out.
Here's the Courthouse looking west from the Arch.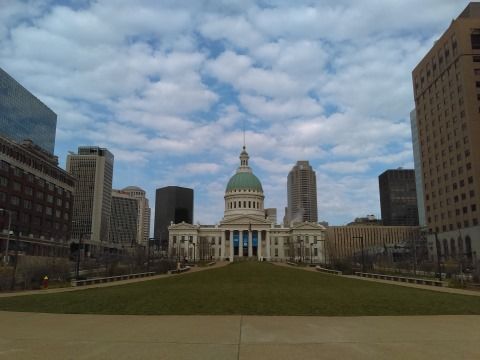 St. Louis' downtown is setup rather neatly. West of the Arch is the Old Courthouse. Extending five or six blocks behind it are a series of parks each taking up a block. Some really nice greenspaces with modern sculpture aplenty including a couple rabbits and a heading lying on its side. At 11th Street where the parks end there are a couple courthouses done up in Greek Revival featuring wonderful colonnades.
Downtown was really nice with some gorgeous buildings. Many of them are fairly tall but the wide streets and open spaces kept away that canyon feel like you get in Chicago. I wish we'd had more time because it was eminently walkable and I'd have loved to have wander around. The sad part was that there were very few people around – at least for what I'd think a downtown would have. A few families dotted the parks while the Arch and Courthouse hosted a fair number of tourists including a school group or perhaps Girl Scout troop. Granted, it was a Sunday morning but I still thought there'd be more folks milling about.
This is apparently par for the course. I found an
article
about the decline of St. Loius which notes "Downtown St. Louis sits eerily quiet on most days, despite millions of taxpayer dollars spent on upgrades." I should give the caveat that we did not look around all of downtown. But the parts we did seemed to lack draws. While I'm sure downtown is overflowing with humanity when there's a baseball or football game – both stadiums are near the riverfront – but I didn't see many stores or other attractions to keep people coming.
Soon enough it was time to head out for some barbecue. On our way we drove by the
City Museum
with its funky outdoor playground.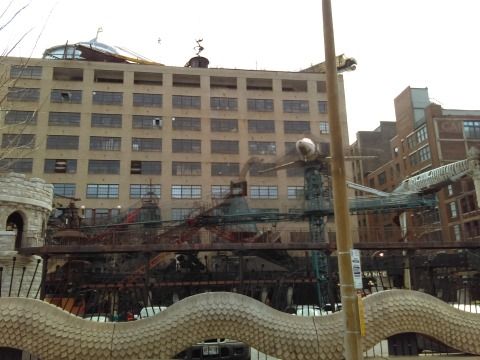 The ostensible purpose of the trip was to indulge in smoked meat at
Pappy's Smokehouse
in Midtown which is a little west of downtown. We arrived around opening time and the line was almost, but not quite, out the door. I had discovered the reason that downtown was so bereft of people.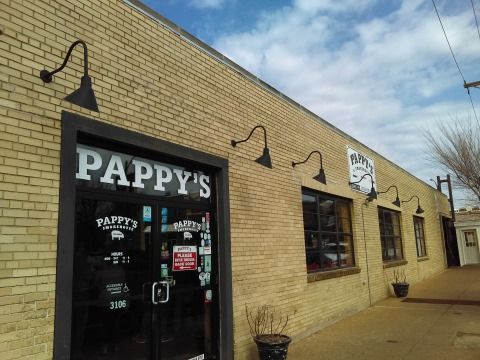 As we neared the counter, I noticed a couple of St. Louis' finest making their way out having had an early lunch. The place was hoppin'. We placed our orders and found a table. My friend Charles swears that Pappy's has the best ribs in all of Christendom so I got a half slab along with a chicken quarter. (Plus some pulled pork and brisket to take home.) Also on tap were
Fitz's sodas
, St. Louis' own. I did not try them, alas.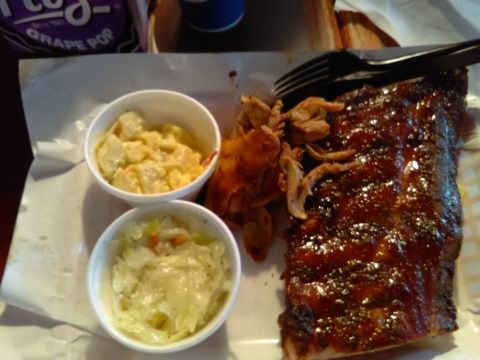 The ribs were quite excellent. To my taste, Pappy's sauces are merely OK, offering too little beyond sweetness. And so I dug into my ribs – dry. They were cooked perfectly, tender but not falling off the bone. The rub was slightly sweet with a peppery tang and a hint of thyme. My chicken was also very tasty. (I later found the pork to be good while the brisket was excellent.)
Here are the smokers taking a rest out on the sidewalk.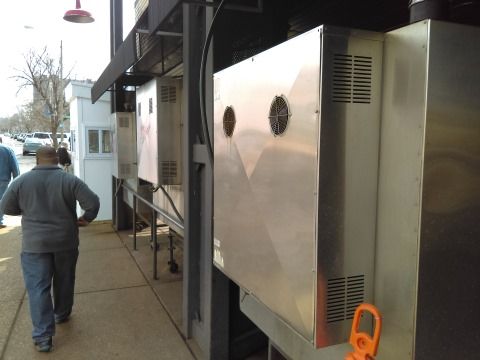 There mere sight of this is Madison would send neighborhood association presidents into immediate cardiac arrest.
With lunch done, we packed our coolers and hit the road home.