It's being
reported
that efforts for a new Central Library downtown have been proposed.
T. Wall Properties is proposing to demolish the worn, 43-year-old facility on the 200 block of West Mifflin Street and replace it with a $45 million, nine-story structure with ground-floor retail, a three-story library and private offices above it.
As the article notes, the current building is in a sad state with poor HVAC, an elevator that needs to be replaced, and a leaky roof. On top of that, more space is needed. Here we are in the Information Age yet what should be the city's pride and joy of information repository goodness is instead run down and inadequate. While I appreciate Wall's overture, I am disappointed that the main branch of our library system would be just another tenant in the building, sandwiched between Starbucks below and private offices above.
Here is what the developers propose:
It's certainly not the worst looking building ever devised by mankind but it's not really classic library style. I mean, take a look at what Chicago and Milwaukee have for their central libraries: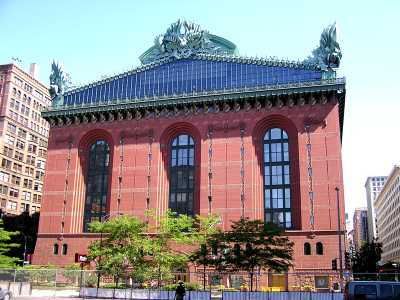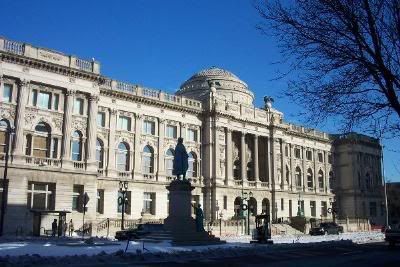 These are what libraries should look like – colonnades and gargoyles and arches and whatnot. They should be architectural tributes to the intellectual roots of Western civilization and the buildings which kept its knowledge safe during The Dark Ages. Instead we get a demo for the Pella window company.
While Madison doesn't need anything quite so vast, the Madison Central Library should at least no have to share a building. Do any other cities or towns make their central libraries share space with stores and private offices? When I lived up by Eau Claire, the L.E. Philips Memorial Library had its own space. Sure, there were some offices in the basement but they were for related groups like Literacy Volunteers of America. I didn't see a bait shop next to the fiction section at the Stoughton Library last fall when I was there. Did Andrew Carnegie erect mixed-use buildings and tell towns to slap their libraries in the middle somewhere or did he fund stand-alone structures which highlighted the importance of libraries and learning?
Let it be said again – libraries
are
important. Think of all the knowledge lost when the Library at Alexandria was destroyed, for example. In 378, the Roman historian Marcellinus said, "The libraries are closing forever, like tombs." It didn't take long for the Empire to fall. Today in Madison people are checking out items by the millions and the library provides Internet access to more people each year. Our library deserves better than just being one tenant among many. Check out the
Madison Public Library Foundation
for more info about their capital campaign for a new Central Library.
Andrew Carnegie called public libraries the "cradle of democracy" and Madison's central cradle should be deemed more than just another tenant on par with fast food restaurants. William of Baskerville sought the finest library in all of Christendom and we should seek the finest library in all of south central Wisconsin.