Back in the winter, I bought a copy of Frances W. Hurst's small tome,
A Common Joy: Outdoor Art in Madison
. Published in 1991, it bills itself as a "map for self-guided walking tour". To my surprise, I was familiar with the majority of works in the book. However, it was nice to find out the names of the statues, sculptures, etc. that I know and see often and to find out how they came to be.
But the book is now 18 years old and there are works that were erected after its publication so I thought I'd try to complement
Common Joy
with a periodic series of blog posts. People interested in outdoor art may also enjoy Emily Mills' blog
Madison Street Art
which chronicles the, shall we say, less formal works to be found here in town.
Living in the Marquette Neighborhood, my first post was a no-brainer.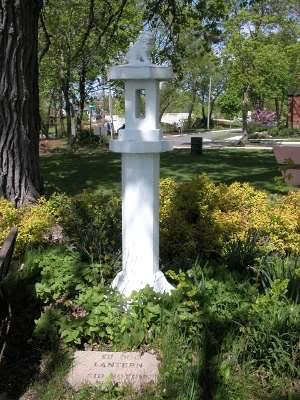 This is "Fu Dog Lantern" by Sid Boyum and it stands in Yahara Place Park. Boyum's story was chronicled by Nadine Goff at
her blog
so I'll avoid doing so here. But know that Boyum was an east sider himself and, upon his death shortly after
Common Joy
's publication, he left a back yard with dozens of sculptures. His son Steve donated 60 pieces to the city and several were given homes in the Schenk-Atwood neighborhood in 2000. They will certainly be appearing in future posts.