Madison's city limits now contain three breweries (plus Capital being within spitting distance) and several brewpubs. The latest is
Karben4 Brewing
which moved into Ale Asylum's old digs and had its "soft" opening on Friday. The Dulcinea and I arrived around 6:15 and the place was stuffed to the gills with revelers.
Three beers were on tap: NightCall, a smoked porter; SamuRyePA, a rye APA; and Block Party, an amber ale. We tried the porter and the APA. Would my hesitation stemming from brewmaster Ryan Koga's
lacklustre effort
at Yellowstone Valley Brewing be proven misplaced? Indeed it would.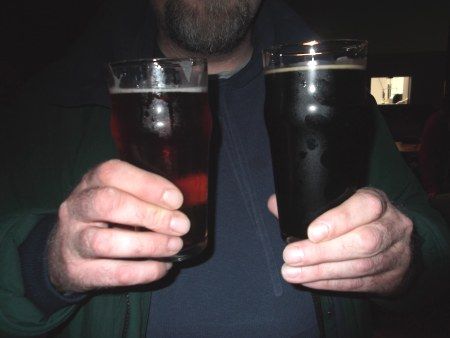 The imperial pint glasses were a nice touch.
SamuRyePA was very similar to one of my favorite beers, Founders Red's Rye PA, with an intense citrus/grapefruit hop flavor. An excellent brew and probably a good way to find a niche in the local pale ale scene.
NightCall was tasty as well. The smoke flavor didn't dominate like a Schlenkerla but rather accented the roasted malt flavor. The brew also had a moderate spicy bitterness.
Wisconsin Beer Geek
chatted with Koga
who revealed that, in addition, to these three beers, an Irish red and a session ale will join the fray as annuals. There will also be four seasonal IPA's, the first of which will be a black IPA/American dark ale. Karben4 seems to be doing its level best to give Ale Asylum a run for its money.
While a bevy of IPAs doesn't particularly interest me, that promised session ale does. Something to look forward to in 2013.