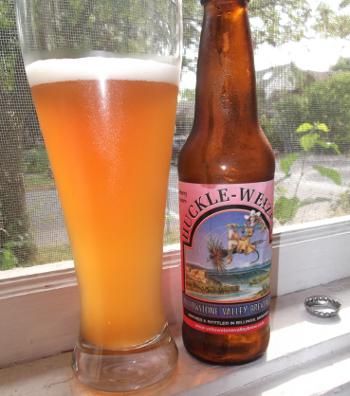 With brewer Ryan Koga leaving Yellowstone Valley Brewing in Montana and coming to Madison to ply his trade at Karben4, which will move into Ale Asylum's building after they disembark for their new digs, I thought it would be appropriate to review one of his brews.
This is Yellowstone's
Huckle-Weizen
, a wheat beer with huckleberry. The berry is a favorite of black and grizzly bears, hence the description of the beer as bear food in a bottle.
Huckle-Weizen is a pretty beer. It's well-carbonated (probably overly so) thusly you get a nice head which you can't see here because I took my first photo only to find that there was no memory card in the camera. D'oh! It's cloudy and a nice straw color which becomes a light amber at the wider part of the glass.
The aroma is all berry. Not very sweet, though. For better or for worse, the flavor is much the same way. The luscious tartness of the fruit hits your tongue first and stays there. Like the aroma, the flavor is not sweet; instead it's tart. Very tart. Think a really tart blueberry with a hint of citrus thrown in for good measure. The effervescence adds to the effect with no vanilla/clove/banana weizen flavor present, though I did detect a bit of hop bitterness in the finish.
While I was very pleased that the huckleberry flavor was tart instead of being syrupy sweet as too many fruit beers tend to be (I'm looking at you, Leinekugel's), I was disappointed that the berry wasn't playing off of the distinctive yeasty flavors of a weizen. Was this truly a weizen or some knid of American wheat ale? To use Wisconsin beers to highlight the contrast: it was like huckleberry juice added to Island Wheat instead of Laughing Fox.
Junk food pairing: Reduced salt Ritz crackers.
Labels: Beer, Hefeweizen, Weissbier, Yellowstone Valley Brewing Co.