Yesterday The Dulcinea and I took dinner at the neu
Freiburg Gastropub
over on Monroe Street. I'm not sure when it opened exactly but I believe that it was earlier this month. It had a nice interior with a tin ceiling and the place smelled of freshly cut lumber.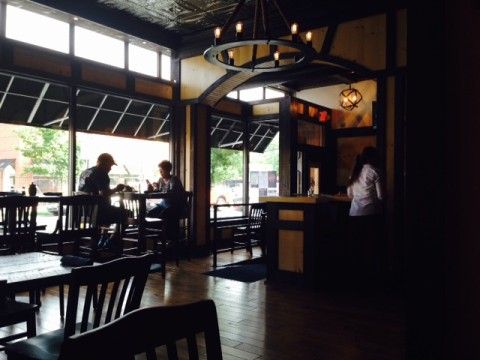 The staff seemed to be folks in their 20s and were notably not clad in lederhosen nor dirndls. We were allowed to choose a table and chose one with a view of the outside but not at a window. Water arrived shortly after we sat as did a basket with brot und a pretzel.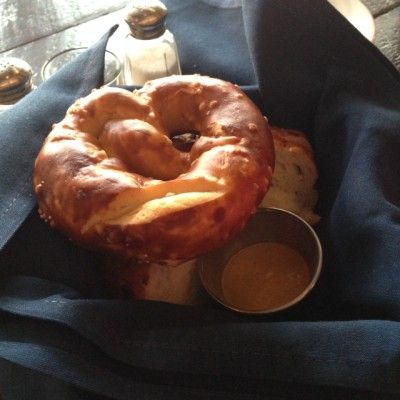 The pretzel was tasty as was the brot although it was fairly plain white bread. Gastropubs are too fancy for landbrot, I guess. The brot basket also had a small hoolie of a mild senf. Every table was adorned mit a crock of senf, spicy Düsseldorf senf.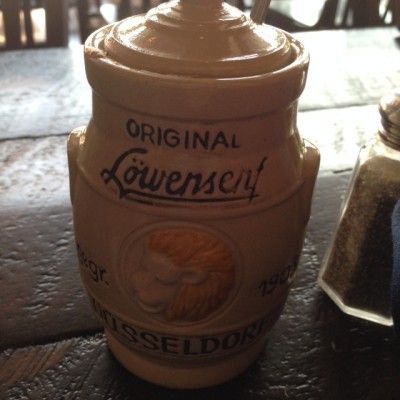 I can testify that this stuff had some kick.
And then there was the beer. FG has a
goodly German beer selection
plus the requisite IPAs and assorted American microbeers. As I noted yesterday, the beer menu features an alt und a Kölsch, a feat beyond the ability of the Essen Haus for reasons unknown. The D and I went with the Aecht Schlenkerla Maerzen Rauchbier. They even had Schlenkerla glasses! Monroe Street isn't exactly the altstadt in Bamberg but the glass was a nice touch nonetheless.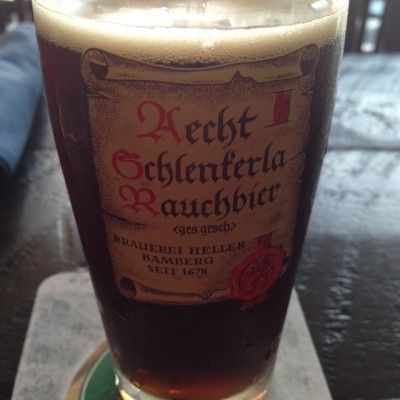 Mmmm…full of smoky goodness with a bit of spicy hops on the finish. Ausgezeichnet!
After devouring the brot und pretzel, we were served our Vorspeise brat stickers.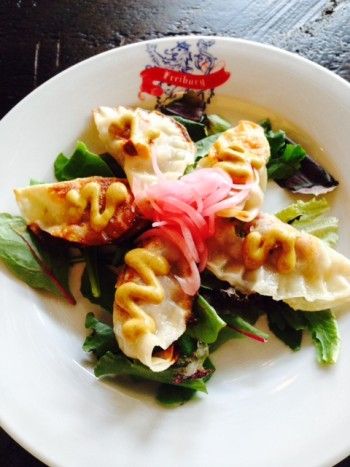 Sheer novelty, of course, but they were pretty tasty. Wonton skins filled with some bratwurst and topped with mustard and pickled onion. The wurst was good although mild by which I mean I'd have like to have tasted a bit more nutmeg and coriander.
Soon enough the rest of our meal arrived. The D had Wiener Schnitzel while I went with the Rinderbraten.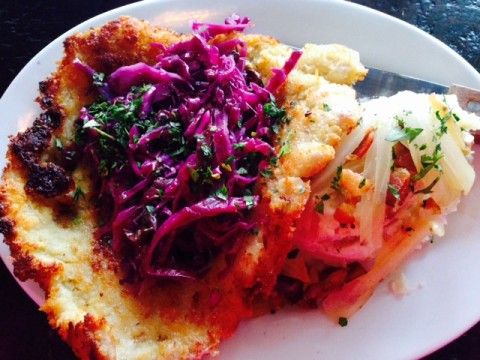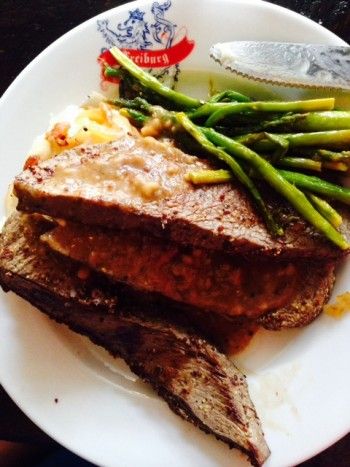 The schnitzel was pretty good but I found the breading a bit bland. Don't get me wrong, breaded and fried pork is one of mankind's greatest inventions but I do like to season my breading for schnitzel with a pinch of salt, a dash of pepper, a couple smidgens of mustard powder – just a little something to accentuate the pork. My Rinderbraten was very tasty. The beef was tender and still quite pink in the middle with mustard seeds aplenty. The only shortcoming here was the paucity of gravy. Beef roast and mashed potatoes requires at least a gallon of the stuff. About those kartoffeln…they were exquisite topped as they were with diced bacon and fried onions.
I have no explanation for the sea-change in my palate last night but I actually ate my asparagus. My father used to pick it every spring from the railroad embankment by our house in Chicago and he tried to entice me into eating it but I always resisted. The German part of me has been ashamed of this gustatory shortcoming for years. Thinking that it had been a while since I last tried asparagus I decided to give it a shot once again and found that it wasn't so bad. The preparation was overly salty to my taste but the vegetable itself wasn't disgusting. And so I learned to appreciate asparagus. If they were still alive, my father would have been proud while my brother would have said that I'd gone over to the Dark Side.
For dessert we had a slice of Schwarzwälder Kirschtorte, a.k.a. – Black Forest Cake: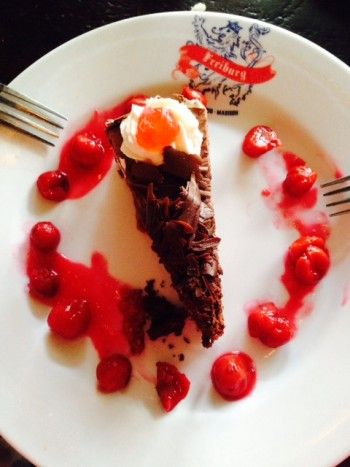 This was fantastic. The cherries on the perimeter were perfectly tart while the cake itself had just the right amount of sweetness, i.e. – it wasn't very sweet. A Snickers bar probably has the same amount of sugar as the entire cake from which my piece came.
Overall Freiburg Gastropub was quite impressive. There was a slip here or a difference in taste there but, on the whole, the food was excellent. We generally went with more traditional German dishes but the menu features more contemporary fare. There were also options for vegetarians and others who are crazy enough to abstain from pork. The beer selection was impressive with a rauchbier, alt, and a Kölsch on tap. They even had stangen for the Kölsch which makes me shudder at the thought of paying $7 for .2 liters of the stuff, if the menu is to be believed. Sunner is just not that good, in my opinion. I'd consider paying that price if I were a bit tipsy and the Köbes was a frau wearing a low cut blue dress with her boobs hanging out playing the role of the damsel in distress with her fully loaded kranz weighing her down. Under such circumstances I might have to be a gentleman and step in to help.
Behind the bar is a board listing beers that were coming soon. Amongst them were
Leipziger Gose
and a brew by Prof. Fritz Briem. A manager-type was seated at the bar and struck up a conversation with us. I asked him which Fritz Briem brew he was going to have and he said that it'd be the 1809 Berliner Weisse. He also told me that he was trying to get his hands on a rare barrel of a pine flavored gose which I assume is
Freigeist Geisterzug Gose
, a spruced gose. Sehr interessant! Oh, and he was trying to make the switch from Sunner to Reissdorf as well.
It was really nice to see a restaurant concede that there is worthwhile German cuisine and beer outside of Bavaria.
Labels: Beer, German bier, Madison, Restaurants