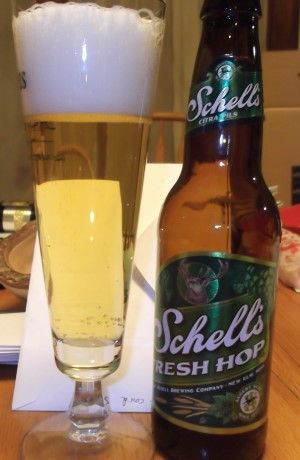 It is a new tradition but a tradition nonetheless for Schell's Jace Marti to brew a single hop pilsner every autumn with freshly harvested hops. From what I've gleaned from the Interwebs, it appears that the practice began in 2012 when Marti brewed a Citra pils for the brewery's Stag Series, a line of limited edition brews. Apparently the experiment went well enough that Schell created a new series of biers called Fresh Hop the following year to continue the experiment. After Mosaic and Equinox hops getting the call the past couple of years, we are back to Citra hops for 2015.
Since the Fresh Hop biers are pilsners, they fit into Schell's "German Craft" ethos while also catering to hopheads who cannot get enough of newer American hop varieties. This year's bier was shipped out in October although I did not get my mitts on some until this month. This is partly due to Schell biers taking a while to arrive in Madison as well as my own laziness in going to Riley's which seems to be the only (or perhaps, closest) place in Madison that carries Fresh Hop. So, while my sample of this year's bounty may not be the freshest Fresh Hop ever, I still think I quaffed it in a reasonable time frame.
This year's Fresh Hop pours a lovely straw color and is quite clear. My pour produced a substantial creamy white head and there were oodles and oodles of bubbles inside making their way up from the bottom of my (pilsner) glass.
The Citra hop variety is relatively new having come onto the market in 2007. As the name implies it is known for citrus elements in its aroma and flavor. When I took a sniff of Fresh Hop, I found it rather lacking in citrus. It was there, but very restrained. I thought that floral and grass aromas dominated. The malt was also detected by my proboscis in the form of a crackery smell. Sehr gut!
Those grassy and floral aromas were also in the bier's taste. And as with the aroma, citrus notes were present but very much in the background. While the hop flavors were prominent, hop bitterness was not. The malt was mainly a cracker flavor but there was also a bit of bready sweetness that seemed to highlight the floral hop taste. As you'd expect from a pilsner, the overall taste was clean. Carbonation added some sparkle and dryness.
For the finish the hops lost their floral quality and the grassy taste was joined by some spicy hoppiness. There was also more bitterness here which made for a nice dry ending. My pilsner glass was teeming with
Schaumhaftvermoegen
and was lined with lots of thick webbing. Gorgeous. This aftermath made it look like I did some work or some such thing.
One nice thing about Fresh Hop (and other similar beers) is that you get an intimate experience with a single hop. Granted, this bier was lagered for about a month so it is definitely a different gustatory experience than a Citra-hopped IPA right out of the barrel. Still, you also get a very different experience from your normal Nobly-hopped pils.
And my experience was quite positive. I love the Fresh Hop series! Brewed as a more restrained German pils as opposed to the more robust Czech version, you get a nice clean maltiness with hops that demand your attention but don't threaten to overwhelm. This bier has a light, bubbly body that allows the Citra hop flavor to shine. And I did like the Citra. I really enjoyed the floral flavor yet also how the finish was traditional pils territory with a more Noble set of flavors and customary dryness.
Junk food pairing: German pilsners are rather delicate – not frail! – biers and they should be paired with lighter fare. Try some Vegetable Thins crackers dipped in Cheez Whiz sauce or topped with the American cheese flavored Easy Cheese.
Labels: Beer, Pilsner, Schell Brewing