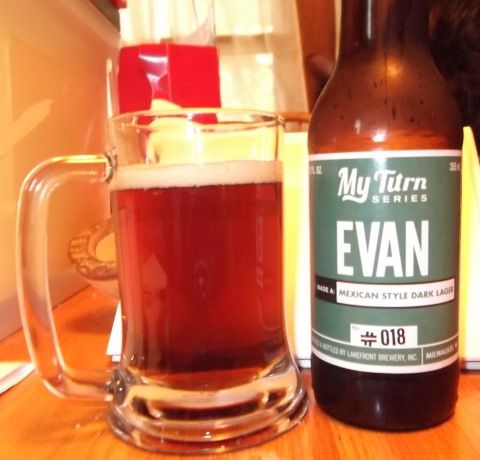 Evan
has arrived just in time for summer. Milwaukee's Lakefront Brewery introduced its My Turn series in the autumn of 2011. For My Turn brewery employees choose a style to brew or to have brewed on their behalf and this has resulted in some very tasty beers since then.
Luther
is one of my favorites and not just of the My Turn series. It was a fantastic brew that stands as one of my all-time faves. In this case, the eponymous employee is a third-shift brewer and he chose to make a Mexican-style dark lager.
There is nothing quite like a cold, crisp cerveza while lying around on a Mexican beach. That there is no shortage of cold lagers from Mexico is due in no small part to waves of German immigrants who went to Mexico in the latter half of the 19th century and brought their brewing traditions with them. (These immigrants also brought accordions and so we have music such as tejano and conjunto.) I tend to think of Mexican cervezas – the macro varieties, anyway – as being light and somewhat watery. I don't mean this disparagingly because I drank many a Tecate when I was in Mexico and think that Negra Modelo is pretty tasty regardless of where I may be.
I wonder if this tendency towards lighter-bodied beer is strictly the result of Mexico's climate or perhaps other reasons are at play such as ingredient availability or Mexican brewing laws. There is surely also a thesis paper in there somewhere: the influence of German immigrants upon the Mexican vs. American brewing industries.
In order to simulate drinking a cerveza in the Mexican sun, I did some work around the house which consisted mostly of packing and moving boxes around since it was relatively cool outside.
Evan pours a lovely clear copper. I was relieved to get only a small (maybe ¼ inch) light tan head after that wildly over-carbonated bottle of
Bear Bare
. It went away rather quickly while there was a fair amount of bubbles inside the cerveza going upwards.
The first thing I caught on the aroma was moderately sweet chocolate. This was followed by a little caramel as well as some grassy hops. Everything here was pretty mild and I couldn't smell anything with the glass a foot from my nose as I had been able to with some of the pilsners that I have had as of late.
Taking a sip I found that the cerveza had a light body and a nice bit of fizziness but one which wouldn't attack my tongue with carbonic acid. There was chocolate here which was joined by the caramel from the aroma. But the taste also mixed in a more bread-like roasted grain flavor which made for a nice contrast with the sweeter malt flavors. Mt. Hood hops added a faint grassy taste in the background.
On the finish all the malt flavors faded to a pleasantly restrained hoppiness. There was some grass as on the taste but there was also a stronger spiciness which threw a gentle bitterness into the mix and pushed the ending towards the dry side. My glass was left with some nice lacing in the form of goodly-sized patches all around.
I managed to work up a little sweat lugging boxes of books around and Evan really hit the spot afterwards. As I expected, it was light and refreshing. I really enjoyed how the sweeter malt tastes were contrasted with the more savory ones. There are no bold declarations of taste here and Evan is a sessionable 4.5% A.B.V. While everything is on the mild side with this cerveza, it still has enough flavor to keep things interesting as you quench your thirst.
Junk food pairing: Frito Lay, Kettle, and Miss Vickie's all have fine jalapeno potato chips to pair with Evan. For something a little bolder, try Late July's Bacon Habanero Tortilla Chips.
Labels: Beer, Dunkles, Lakefront Brewing, Mexican Lager